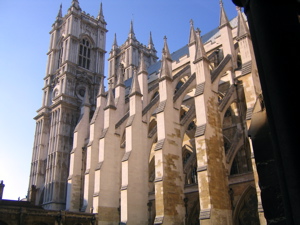 Edward I was King of England for 35 years in the 13th and 14th centuries.
He was without doubt one of England`s most prominent and important kings, having nicknames including "Hammer of the Scots", "Flower of Chivalry", "Lawgiver", "Father of the Mother of Parliaments" and "the English Justinian". The nickname by which he is best remembered today, however, is "Longshanks", referring to his exceptional height for his day. He was well over six feet tall.
Edward was the eldest son of Henry III and Eleanor of Provence. He was born at the Palace of Westminster in 1239, and given the name Edward in honour of the much revered Edward the Confessor. His father had then been king for 23 years.
As a teenager, he was believed to be protected by angels, as on the day when for no apparent reason he rose from the table during a game of chess, seconds before a large piece of masonry crashed down onto where he had been sitting.
At 15 years old, in 1254, he was married to the 13 year old Eleanor of Castile, daughter of King Ferdinand III, at Las Huelgas. She was known as the Infanta of Castile, and this was misheard by the English as Elephant and Castle, giving rise to the name of many pubs and eventually to a district of South London.
This was clearly a political marriage, but the pair became devoted to each other.
Around the same time, he was made Earl of Gascony, which had previously been in the hands of Simon de Montfort, who had ruled autocratically and arrogantly. Unfortunately, Edward turned out to be just as unpopular, for similar reasons.
From his youth, Edward was famous as an excellent jouster. A rebellion by Llywelyn ap Gruffydd in North Wales in 1259 gave Edward his first taste of battle, but this did not last long, as a more pressing problem was the Barons` Revolt, led by de Montfort.
Edward initially aligned himself with de Montfort, agreeing that reforms were necessary, but when Civil War broke out in 1264 he supported his father.
It was Edward who captured de Montfort`s son, also Simon, at Northampton. However, Edward`s rashness was largely responsible for the defeat at Lewes, which led to de Montfort becoming effectively the king.
The next year, 1265, saw Edward win back the crown for his father in a brilliant campaign which culminated in the Battle of Evesham, in truth a massacre. Simon de Montfort was not only killed, he was dismembered, and portions of his body sent to friends, including his wife.
In 1270, having taken over many of the roles of a king from his father, Edward, accompanied by his wife, went on a Crusade to the Holy Land. He had many adventures, but almost died when an assassin stabbed him with a poisoned dagger. That he lived was due to Eleanor, who sucked the poison from his wound.
On his way home, he was visiting Sicily in 1272 when he heard the news of his father`s death. Feeling secure at home, however, he took his time to return to England, and arrived back in the country in 1274, being crowned at Westminster Abbey less than a month later.
Edward felt somewhat slighted by the fact that Llywellyn, Prince of Wales, did not appear for the coronation, although he had been bidden to do so. Twice more he commanded Llywelyn to attend court, even travelling to Chester to make it easier for him, but still the Prince refused to attend.
Edward then declared Llywelyn a traitor, and invaded Gwynedd, forcing him into submission. At the treaty of Aberconwy in 1277, Llywelyn was allowed to retain his title, but with greatly reduced lands and authority, which anyway he was obliged to share with his brother Daffyd.
However, more Welsh rebellions ensued, but in due course Llywelyn was killed in battle and Dafydd was captured and executed.
It was during this period that Edward had the ring of great castles built in North Wales, including Caernarfon, Conwy, Harlech and Beaumaris.
He also promised the Welsh that he would present them with a Prince of Wales, born in Wales and who could speak no English. He kept his word literally, presenting them with his baby son Edward (later Edward II), who had been born at Caernarfon.
While the Welsh troubles were continuing, Edward busied himself with reforms of the law, and was particularly severe on those whom he saw as having abused their authority.
Edward was the king who expelled the Jews from England. Simon de Montfort continues to be much criticised for his anti-Semitism, oddly because virtually everybody in England at the time was anti-Semitic. De Montfort is notorious for having expelled the Jews from Leicester, but Edward turned them out of the whole country. In 1278 he had 280 Jews hanged for alleged coin clipping, and in 1290 the whole Jewish community, sixteen thousand, were expelled from England.
Edward did much to foster his popular image as a latter day King Arthur, and in 1278 was present when the alleged graves of Arthur and Guinevere were opened at Glastonbury.
Edward had agreed with Alexander III of Scotland that Margaret Maid of Norway, heir to the Scottish crown, would be betrothed to his son Edward, in the hope that this would in due course unite the two kingdoms. But shortly after becoming Queen, this little girl of three died, leaving Edward`s plans in ruins and also Scotland without a monarch.
Edward was asked by the Scottish barons to adjudicate on the various claims by noblemen to succeed as new King of Scotland. Eventually, he came down on the side of John Balliol, who had a good claim but was a weak character whom Edward could easily dominate.
In 1290, while Queen Eleanor was travelling North to meet Edward in Scotland, she died of a fever at Harby, near Grantham. Edward was grief-stricken, and caused the elaborate memorials subsequently known as Eleanor Crosses to be erected at the places where her body rested each night, on her way to burial at Westminster Abbey. Three of these remain today, at Hardingstone, Geddington and Waltham Cross, but there were twelve originally, in such places as Stamford, Dunstable and St. Albans.
In 1294, Philippe IV of France took possession of Gascony, and Edward needed to raise money for an expedition against him. At the same time, Madog ap Lywellyn led a revolt in Wales and shortly after the Scots, under a reluctant John Balliol, also rebelled.
The king`s speedy reaction was to march into Wales and savagely put down the rebellion, summon the Model Parliament, which voted him money for the French and Scottish camapigns, and march to Scotland to put down the rebellion there.
He sacked Berwick and defeated Balliol at Dunbar. When Balliol surrendered, he was imprisoned in the Tower of London. Edward demonstrated his mastery of Scotland by seizing the symbol of Scottish kingship, the Stone of Scone, and taking it to Westminster Abbey, where it remained for centuries.
He then sailed for France and came to a truce, with him retaining control of Gascony.
Edward`s ability to assert his dominion on all these fronts was nothing short of masterful.
However, one of the men whom he left in charge in Scotland, William Ormsby, proved to be of a tyrannical bent. This led to another Scottish rebellion, this time led by William Wallace, immortalised as Braveheart. Edward defeated Wallace at Falkirk in 1298, but Wallace continued to be a thorn in Edward`s side until he was captured in 1305, after which he was executed at Smithfield.
In 1299, Edward was married again, this time to Margaret, the sister of the French king Philippe IV, at Canterbury Cathedral.
Edward was the first king to be recorded as touching to heal the King`s Evil, with two thousand people presenting themselves for his touch in 1305 - 6.
After Wallace`s execution, yet another rebellion broke out in Scotland, this time under Robert the Bruce, who was crowned in 1306. Edward was marching to deal with this when he died of dysentery at Burgh-on-Sands in 1307. He was buried at Westminster Abbey, and succeeded by his son Edward II.
A strong king, he was guilty of some acts which would be frowned upon under our own standards, and he was certainly capable of cruelty, but he laid a substantial amount of the foundations for England`s subsequent greatness.
Edward and his first wife Eleanor had sixteen children, the largest legitimate number by any English king and queen.
Eleanor was born in 1264 at Windsor Castle. She married firstly Alfonso III, King of Aragon in 1290 and secondly Henry III, Count of Bar in 1293. She died in 1298 at Ghent and was buried at Westminster Abbey.
Joan was born in 1265 in Paris and died a few weeks later, being buried at Westminster Abbey.
John was born in 1255 at Windsor Castle. He died at the Palace of Westminster in 1271 and was buried at Westminster Abbey.
Henry was born in 1267 at Windsor Castle. He died in 1274 at Merton and was buried at Westminster Abbey.
Alice was born at Woodstock Palace in 1270, and died in 1282.
Juliana was born in 1271 at Acre, and died shortly after. She is buried at Bordeaux.
Joan was born in 1272 at Acre. She married firstly Gilbert de Clare, Earl of Gloucester, in 1290 at Westminster Abbey, and secondly Ralph, Earl of Gloucester, in 1296. She died in 1307 at Clare and was buried at Clare Priory.
Alfonso was born in 1273 at Bayonne, and was designated Earl of Chester in 1284. He died in 1284 at Windsor Castle and was buried at Westminster Abbey.
Margaret was born in 1275 at Windsor Castle. She married John the Peaceful, Duke of Brabant, in 1290 at Westminster Abbey. She died in 1318 and was buried at Brussels.
Berengaria was born in 1276 at Kennington Palace. She died in 1279 and was buried at Westminster Abbey.
Mary was born in 1278 at Windsor Castle. She entered Amesbury Abbey in 1284 and died there and was buried in 1332.
Isabella was born in 1279 at Woodstock Palace. She died shortly after and was buried at Westminster Abbey.
Elizabeth was born 1282 at Rhuddlan Castle. She married firstly John I, Count of Holland at Ipswich Priory in 1296, and secondly Humphrey de Bohun, Earl of Hereford and Essex, in 1302 at Westminster Abbey. She died in childbirth in 1316 at Quendon, and was buried at Walden Abbey in Saffron Walden.
Edward was born in 1284 at Caernarfon Castle, his parents` fourteenth child. He succeeded his father as Edward II.
Beatrice was born in 1286 in Gascony, and died shortly after.
Blanche was born in 1289, and died shortly after.
Edward and his second wife Margaret had three children.
Thomas was born in 1300 at Brotherton and created Earl of Norfolk in 1312. He married firstly Alice, daughter of Sir Richard Halys of Harwich in 1316, and secondly Mary, daughter of Peter de Braose, in 1328. He died in 1338 and was buried at Bury St. Edmunds Abbey.
Edmund was born in 1301 at Woodstock Palace and created Earl of Kent in 1321. He was executed for supporting his half brother, the deposed Edward II, in 1330 outside Winchester Castle, and buried at the Black Friars at Winchester, his remains later being removed to Westminster Abbey.
Eleanor was born in 1306 at Winchester. She died in 1311 at Amesbury Abbey, and was buried at Beaulieu Abbey.
Edward`s widow Margaret died in 1317 at Marlborough Castle, and was buried at the Greyfriars, Newgate in London.
Edward I is believed to have had one illegitimate child, by an unknown mother, John Botetourt, Lord of Mendlesham, who was born in 1265, married Matilda, daughter of Thomas FitzOates, and died in 1324.
Posted by colin on Monday 6th October, 2008 at 10:47am