Windsor Castle (Windsor)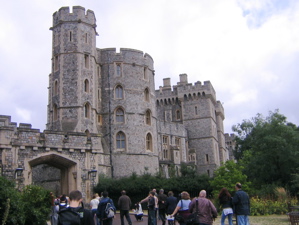 Windsor Castle is one of the iconic buildings of England.
The castle dominates the historic little town of Windsor on the River Thames. The town grew up outside the gates of the castle.
William the Conqueror constructed the original castle on a chalk cliff overlooking the river, at a position which commanded the Western approches to London.
Henry II erected the earliest stone buildings on the site, on William's impressive motte.
Over the centuries more and more was added, especially by Sir Jeffrey Wyatville in the 1820s, during George IV's reign.
When Edward III founded the Order of the Garter, he used an existing chapel. The order's chapel today is St. George's Chapel, started in 1475 by Edward IV.
Windsor Castle, one of Her Majesty the Queen's homes, is the largest inhabited castle in the world.
The castle, and especially St. George's Chapel, was badly damaged by fire in 1992.