Evesham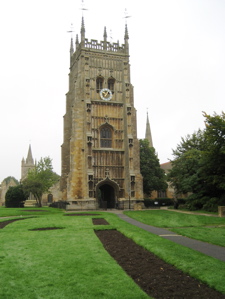 Evesham is a very attractive riverside town in Worcestershire.
It stands on the River Avon, and is surrounded by a famous fruit growing region known as the Vale of Evesham.
There was a very prosperous Abbey here in the Middle Ages, until the Dissolution of the Monasteries under Henry VIII in the 16th century. Still standing, however, is the magnificent Bell Tower.
The two nearby churches, St. Lawrence's Church and All Saints Church, were both originally within the precinct of the Abbey.
Simon de Montfort, the Earl of Leicester who was effectively King of England for a few months while holding Hennry III captive at Kenilworth, was killed at the Battle of Evesham in 1265 and buried at the Abbey.
The Almonry, one of the buildings of the Abbey, now houses a small museum and the Tourist Information Centre.
The town has a good collection of black and white timber framed houses.
Evesham has a very attractive indoor shopping centre, the Riverside Centre, with a Georgian frontage onto the Market Place.
Blue Badge Guide Colin Crosby is available to lead Guided Walks around Evesham for groups.