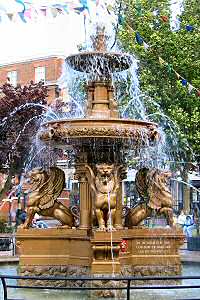 I gave my talk to Saga Holidays visitors to Leicester recently, at the John Foster Hall at Leicester University.
Saga have several holidays a year in the fascinating old city of Leicester, and I give them an overview of interesting things to do in the city and around Leicestershire.
I talk about the many museums, from the historic Newarke Houses Museum to the iconic National Space Centre; the fine collection of mediaeval churches, including Leicester Cathedral and St. Mary de Castro Church; the parks, including Abbey Park and Victoria Park; not to mention the fantastic shopping opportunities including Leicester Market and The Shires, which is about to spectacularly increase in size.
And of course I speak about Leicestershire`s lovely countryside and market towns, including Melton Mowbray and Market Harborough.
It is always nice to meet people who have come from all over the country, and on this occasion I was able to chat to visitors from Brighton; Bristol; Bury St. Edmunds; Hornchurch; Ilford; London; Malmesbury; Sidmouth; and Southsea.
Perhaps you will come on on of these holidays next year.
Posted by colin on Thursday 21st August, 2008 at 7:55am