Victoria Park (Leicester)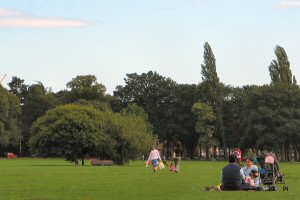 Victoria Park is one of the many fine parks in Leicester.
It is said that the land was given to Leicester by Simon De Montfort, the Earl of Leicester who was briefly the effective ruler of England before being defeated and killed at the Battle of Evesham.
The park was previously used as Leicester Racecourse before this moved to Oadby.
The War Memorial is on the edge of the park. It was designed in the 1920s by Edwin Lutyens, who was also the architect of the Cenotaph in London and also of the War Memorial at Southend.
Also by Lutyens are the park gates, paid for by Sir Jonathan North in memory of his wife.
The main buildings of Leicester University, including the tower by James Stirling, are also on the edge of the park.
Today, Victoria Park is a wide expanse of land with tree-lined paths, sports pitches and a popular café.