St. Mary de Castro Church (Leicester)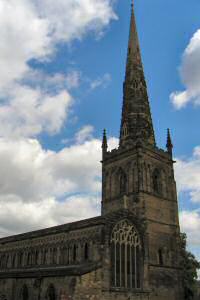 St. Mary de Castro is one of the oldest churches in Leicester.
With its beautiful spire, it can be found in Castle Street, which leads off St. Nicholas Circle, just off Leicester's inner ring road, close to the Holiday Inn.
People often ask "who was St. Mary de Castro?" In fact, the name means "St. Mary beside the Castle", to distinguish it from "St. Mary in the Meadows", which was the magnificent Leicester Abbey.
The church was built in the early 12th century by Robert de Beaumont, Earl of Leicester, as a chapel for Leicester Castle. However, tradition suggests that there had been an earlier church here, built by Ethelfleda, Lady of the Mercians. She was the daughter of King Alfred and was the General who recovered Leicester and the rest of the East Midlands from the Danish occupation.
St. Mary de Castro has a beautiful needle spire, which dominates views of the Old Town from certain angles.
The chancel, while several hundred years old, was nevertheless added later, as was the tower, which was constructed inside the church. It is thus possible, most strangely, to walk around three sides of it within the building.
Inside the church there are two sets of sedilia (seats for clergy) and piscina (basin for washing communion vessels). Many mediaeval churches have one set, but the difference here is that there were at one time two churches side by side. One was for the castle, and the other for everybody else. But this must have been a very inconvenient arrangement, and the two churches were combined, resulting in an extraordinarily wide right-hand aisle.
There is an excellent 13th century font, a good Noman door surround, and grotesque heads all around the exterior.
St. Mary's was the scene of the marriage of Geoffrey Chaucer, author of "The Canterbury Tales". He married Philippa Roet, the sister-in-law of John of Gaunt, one of whose homes was Leicester Castle.
Henry VI was knighted at the church. At the end of a course on chivalry, candidates for knighthood had to spent the night in quiet contemplation and prayer, and would normally be knighted in the morning. Henry was five years old at the time, having become king as a baby, when his father, Henry V, died unexpectedly young.
The churchyard is large, and is the oldest contionuously used open space in the City Centre. There are some very good Swithland slate headstones.
The old wall on the far side of the churchyard is the wall that separated Leicester Castle from the Newarke, and is on the line of Leicester's Roman wall.
St. Mary de Castro is still used for worship, and is normally open to visitors on Saturdays.