Newarke Houses Museum (Leicester)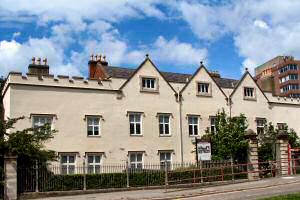 The Newarke Houses Museum is situated in the Newarke in the heart of Leicester's historic Old Town.
It is situated in the Newarke, which can be reached on foot by subway from Newarke Street, or by road from Western Boulevard.
The Newarke Houses are actually two buildings which have been joined to create the museum.
The Chantry House, on the corner of Castle View, was built in the 16th century by William Wyggeston, the Mayor of both Leicester and Calais, as a house for priests. The adjoining Skeffington House dates from the 17th century and was the town house of the Skeffington family, from Skeffington on the road to Uppingham.
Among the exhibits in the Museum have been a Victorian street, a collection of old musical instruments, toys from both Britain and the Gujarat, and artefacts associated with Daniel Lambert, the Leicester man who achieved 52 stone.
The Newarke Houses Museum is closed at the time of writing, but on its reopening will house a collection of items connected with the Leicestershire Tigers Regiment. These were formerly housed in the Magazine Gateway.
Where is Newarke Houses Museum?
View a map showing the location of Newarke Houses Museum.
Press the 'Back' button on your web browser to return here.