Magazine Gateway (Leicester)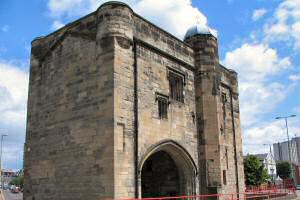 The Magazine Gateway is an imposing structure, dating back to the 14th century and looking like a small castle, in the heart of Leicester's historic Old Town.
It can be found beside the road in Southgates, part of the city's inner ring road, and can be seen at the end of Newarke Street. However, it can only be reached by subway and steps.
The gateway should really be called the Newarke Gateway, as it was an entrance to the Newarke, a 14th century addition to Leicester Castle.
It acquired the name Magazine Gateway during the Civil War, when it was used as storage for the town's weapons and gunpowder.
There are two openings, one for vehicles and a smaller one beside it for those on foot. There is an impressive vaulted ceiling.
For some years the gateway was used as a Museum, with displays relating to the Leicestershire Tigers regiment. This was closed, however, in the 1990s, as the condition of the ancient stairs was felt to be less than safe.
The Tigers displays are due to be relocated to the Newarke Houses Museum, now undergoing refurbishment.
The Newarke was a largely religious area, and one of its buildings was the Church of the Anunciation of the Blessed Virgin Mary, where the body of Richard III lay in state for three days before being buried at the Grey Friars. The church was demolished during the 16th century.
Where is Magazine Gateway?
View a map showing the location of Magazine Gateway.
Press the 'Back' button on your web browser to return here.