John of Gaunts Cottage (Leicester)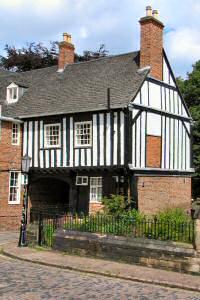 John of Gaunts Cottage is an attractive timber-framed building in the heart of Leicester's historic Old Town.
It can be found in Castle Street, which leads off St. Nicholas Circle, just of the city's inner ring road, and close to the Holiday Inn.
It consists of rooms above a gateway, beside the beautiful St. Mary de Castro Church.
Although it is known as John of Gaunts Cottage, it was actually built about a hundred years after he had died.
John of Gaunt, however, the powerful Earl of Leicester, had Leicester Castle as one of his homes, and it is believed that he died there. He was buried at Old St. Pauls Cathedral in London.
This much-photographed gateway acted as one of the entrances to Leicester Castle, a function which it still performs.
Leicester Castle was a motte and bailey castle, originally constructed just after the Norman Conquest, but destroyed and rebuilt in the aftermath of a Civil War in 1173.
John of Gaunts Cottage is now used, in conjunction with the later and larger Castle House, for visiting judges. It is not open to the public.
Where is John of Gaunts Cottage?
View a map showing the location of John of Gaunts Cottage.
Press the 'Back' button on your web browser to return here.