St. Nicholas Church (Leicester)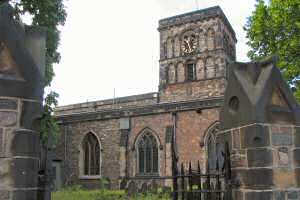 St. Nicholas is the oldest church in Leicester.
It can be found in St. Nicholas Circle, just off Vaughan Way, part of Leicester's inner ring road, beside the Jewry Wall and opposite the Holiday inn.
The church was built on a pre-Christian religious site, and has Roman tiles in the tower. This does not mean, however, that it is in any way a Roman church. The tiles were taken from ruins here in Anglo-Saxon times, Leicester having been an important Roman town.
There are two Anglo-Saxon window openings inside the church. These were formerly outside windows, but the church was later extended.
The porch was brought here from the original Wyggeston's Hospital, founded in the 16th century by William Wyggeston, who was Mayor of both Leicester and Calais.
In the churchyard are some Roman pillars. These came from the Forum or Basilica which stood hereabouts, and would have been used as gravemarkers before the advent of the gravestones with which we are now familiar.
Although Leicester has only been a cathedral city with Bishops since the 1920s, there were Bishops here from the 7th to 9th centuries, and it is believed that St. Nicholas was probably their cathedral.
One of the Bishops was the celebrated St. Wilfrid, associated with Hexham and Ripon. During one of his periods of exile he converted the South Saxons to Christianity, establishing his seat at Selsey, which was later transferred to Chichester. During another exile he turned up in Leicester. The parish church at Kibworth is dedicated to him.
St. Nicholas is still used for worship, and is normally open to visitors on Saturdays.
Where is St. Nicholas Church?
View a map showing the location of St. Nicholas Church.
Press the 'Back' button on your web browser to return here.