Leicester Castle (Leicester)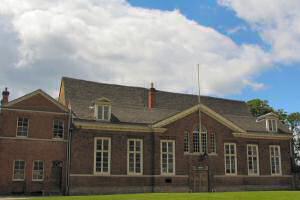 Leicester Castle is close to the present day City Centre, but is in the area known as the Old Town (or sometimes Castle Park), close to West Bridge over the River Soar.
Visitors to Leicester are often surprised to find that the city has a castle, and it is often missed because it does not look like Caernarfon, or Colchester, or the Tower of London.
The castle was first built in the wake of the Norman Conquest, when William the Conqueror was imposing his rule across the country. The main purpose was to overawe the townspeople. Castles were also built at such places as Tamworth, Hinckley and Groby.
In 1173, however, the castle was destroyed along with the rest of Leicester and its inhabitants, after Henry II, who presided over a famously dysfunctional family and who was at least indirectly responsible for the outrageous murder of Thomas a Becket in his own cathedral at Canterbury, faced a rebellion.
This was led by his sons, including two future kings, Richard the Lionheart (who later spent a whole six months of his ten-year reign actually in England) and John, encouraged by their mother, the redoubtable Eleanor of Aquitaine.
The Earl of Leicester, a very powerful magnate, threw in his lot with the rebels, but the king won. The Earl fled to his estates in France, and savage retribution was taken against Leicester.
After the Earl apologised, however, he was allowed to rebuild the castle, and it is part of this late 12th century edifice that survives today.
The Great Hall is hidden behind a Georgian frontage, but is actually an aisled timber-framed building which is said to be the best example North of the Alps.
Also surviving is the so-called John of Gaunt's Cellar, which was probably a wine store, and the motte, on which the keep originally stood. The motte is open to the public, but is considerably lower than originally constructed. Bizarrely, the top was shaved off in the Victorian period to create a bowling green.
John of Gaunt had Leicester Castle as one of his homes, along with Kenilworth, Tutbury and the Savoy in London. He died at Leicester.
His son, Henry Bolingbroke, who also lived here, seized the crown as Henry IV, having deposed his cousin Richard II.
After this, the fortunes of Leicester Castle declined, but Richard III stayed here during his brief reign.
The Great Hall was used as a court house until the 1990s. J. M. Barrie, the author of "Peter Pan", spent many hours in court as a newspaper reporter.
Unfortunately, the Castle is closed to the public, and only opened on special occasions.
Where is Leicester Castle?
View a map showing the location of Leicester Castle.
Press the 'Back' button on your web browser to return here.