Wygstons House (Leicester)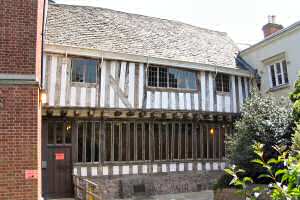 Wygstons House is a very attractive timber-framed building in the heart of Leicester's historic Old town.
It is situated in Applegate, a pedestrianised street just off St. Nicholas Place, which is now a surface car park at the end of the High Street.
Nearby are Leicester Cathedral, the Guildhall and the new studios of BBC Radio Leicester.
Wygstons House was built for Roger Wygston, a 15th century merchant. He was the uncle of the better-known William Wyggeston, who was Mayor of Leicester and also of Calais.
The house was probably saved from development by virtue of the fact that an impressive Georgian house was built in front of it. Wygston's House was thus unnoticed for many years.
Eventually it was acquired by the City Council, and operated until comparatively recently as a Museum of Costume, and by extension fashion.
Clothing manufacture is very important to Leicester and the surrounding district. A large proportion of the workforce were formerly engaged in the framework knitting industry, making socks and stockings. But Leicester is also an important centre for shoe manufacture, and large companies like Next and the now defunct Sweater Shop emanated from Leicester.
Unfortunately, the house is now longer used as a museum, but meetings and seminars are still held there. Most of the costume displays can now be found at Snibston Discovery Park at Coalville.
Where is Wygstons House?
View a map showing the location of Wygstons House.
Press the 'Back' button on your web browser to return here.