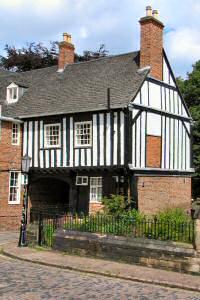 I was able to show a group some of the most fascinating parts of Leicester recently, when Cultural Breaks organised a holiday based in the city.
On the morning after they arrived, I met them at the Marriott Hotel and gave them an introductory talk on Leicester`s history, pointing out that it is not only one of the oldest towns in the country (Colchester being the oldest), but also in the top ten of England`s most populous cities today.
I ranged from the Roman period, through it being one of the Five Boroughs of the Danelaw, through the death, burial and character assassination of Richard III, through the Siege of Leicester in the Civil War, through Thomas Cook`s trip from Leicester to Loughborough heralding the birth of modern tourism, through to the present day, when our famous multicultural and multi-faith community has given the world such famous people as the Richard and David Attenborough, Gary Lineker, Engelbert Humperdinck and Kasabian, not to mention Blu-tac and Walker`s Crisps, the National Space Centre and genetic fingerprinting.
I then took them into the City Centre, and took them into Leicester Cathedral (a cathedral since 1926) and into the wonderful Guildhall.
A snack lunch was taken in the New Walk Museum, with time for exploring the galleries, after which I showed them a little of the incomparable New Walk.
Then it was back to the Old Town, where they were able to view St. Nicholas Church, the Jewry Wall, St. Mary de Castro Church, Leicester Castle and the Magazine Gateway.
Would you like me to show you this amazing city? Feel free to get in touch.
Posted by colin on Sunday 8th April, 2012 at 10:20am