New Walk (Leicester)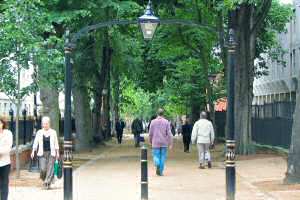 New Walk is a gem, set in the historic city of Leicester.
It runs from Welford Place in the City Centre, where Belvoir Street swings round to become Welford Road, up to Granville Road opposite Victoria Park.
New Walk is a unique tree-lined Georgian footway, where the driving of any sort of vehicle (including bicycles) has always been illegal.
The original purpose of New Walk was to allow visitors to walk from the town to the racecourse, which was then where Victoria Park is now, without having to walk along London Road, which could get quite messy from all the horse-drawn vehicles.
When it was laid out in 1785 it was known as Queen's Walk, in honour of Queen Charlotte, the wife of George III, and was later called Ladies' Walk before New Walk as eventually settled on.
However, the line of New Walk follows a much earlier alignment, the Roman road (Via Devana) from Leicester, one of the oldest towns in the country, to Colchester, the oldest town in the country.
Among the buildings in New Walk are Holy Cross Priory Church, the city's main Catholic church, and the excellent New Walk Museum.
Where is New Walk?
View a map showing the location of New Walk.
Press the 'Back' button on your web browser to return here.