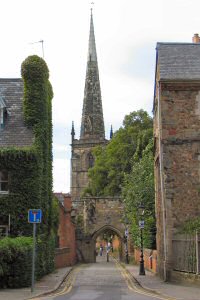 A group of students from China were shown around the oldest parts of the historic city of Leicester recently.
I was asked to lead this Guided Walk by Ann Muston of The Leys School at Cambridge. Chinese students from this School of English were spending the weekend in Leicester. They had already visited the New Walk Museum and were later to pay a visit to the National Space Centre.
I met the group at the Holiday Inn, where they had been staying.
The first port of call was St. Nicholas Church, which is at the heart of the Roman town, and has pillars in the churchyard from the basilica. I then explained the famous Roman Jewry Wall, before moving off to Castle Gardens.
Everybody noticed the stone faces on West Bridge, and I explained that these were characters from "The Canterbury Tales", before looking at the splendid statue of Richard III and discussing the truth about this tragic and much maligned king.
Then it was through The Newarke, where the group listened aghast at the legend of Black Annis, the 14th century Turret Gateway, Leicester Castle and St. Mary de Castro Church.
Finally, I took them to The Shires, where many of the group wished to look around the shops and perhaps spend some money!
It was a pleasure to talk to these very pleasant teenagers, and to impart some of my enthusiasm for the ancient city of Leicester.
Posted by colin on Saturday 3rd February, 2007 at 8:07am