London Road (A Guided Walk in Leicester)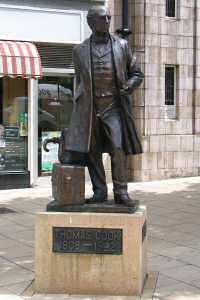 "London Road" is one of the fascinating Guided Walks in the centre of Leicester devised and led by the well known Blue Badge Guide Colin Crosby, of Colin Crosby Heritage Tours.
These gentle strolls are a first rate way of getting to know some Local History.
On this walk, Colin will discuss the road, one of Leicester`s oldest, that leads from Leicester Station to the much loved Victoria Park.
Along the way, he will speak of two popular songwriters; the man who ushered in the age of modern tourism; the private detective who is believed to have been the inspiration for Sherlock Holmes; public footpaths on the line of the Roman road to Colchester; the site of the gallows tree; and the church that moved up the hill.
Dates, costs and where to meet
A place on 'London Road' costs £4.00 per person, or £3.00 if paying in advance. The guided walk begins at Thomas Cook Statue, and is running on:
I'm sorry, but there are no plans to run this event at present.
If you would like to book a place on one of these dates, please telephone Colin on (0116) 2611576 or email him at colin@crosbyheritage.co.uk.