Kibworth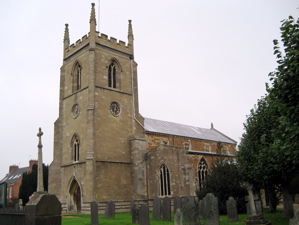 Kibworth is a village in Leicestershire, midway between Leicester and Market Harborough.
It is actually made up of what are actually two villages, Kibworth Beauchamp and Kibworth Harcourt, which over the years have grown together.
The mediaeval St. Wilfrids Church is in Kibworth Beauchamp, but also serves Kibworth Harcourt. The church has a separate door for the parishioners of each village, but the use of this is no longer insisted on.
St. Wilfrid was one of the most prominent Anglo-Saxon Bishops, and is particularly associated with Hexham and Ripon. He was also for a time Bishop of York, but was prone to disputes with both ecclesiastical and secular authority, and was exiled on a number of occasions.
During one of his periods of exile, Wilfrid converted the South Saxons to Christianity, founding an early cathedral at Selsey, which was later transferred to Chichester. Another time he turned up as Bishop at Leicester.
Wilfrid was leader of the successful Roman party at the Synod of Whitby. His brilliant and highly theatrical crypts at Hexham and Ripon can still be visited.
There was, centuries ago, a church at Kibworth Harcourt. Unfortunately, the site of the church is not known definitely, and can only be guessed at.
Kibworth Harcourt has the academy where the Non-conformist preacher and hymnwriter Philip Doddridge taught, and a small mound which was the motte of a motte and bailey castle. The Jarrow Marchers paused here on their way to London.
There is also a windmill on the edge of the village.
The Congregational chapel has an important place in the history of modern tourism. Thomas Cook was walking past the chapel when he hit on the idea of hiring a train to take people from Leicester to Loughborough for a Temperance meeting. The rest is history.
Blue Badge Guide Colin Crosby is available to lead Guided Walks around Kibworth for groups.