Gallowtree Gate (Leicester)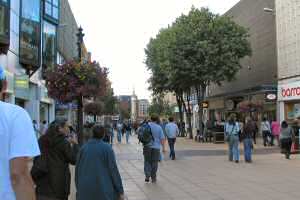 Gallowtree Gate is one of Leicester's main shopping streets. It is a pedestrianised street, running from the Clock Tower to Granby Street.
It has a large selection of well-known High Street stores, including Marks and Spencer, British Home Stores, W.H.Smith, Boots and Dixons.
The word "gate", as used in Leicester and other East Midlands towns, such as Loughborough, Nottingham and Newark, has nothing to do with gateways. It is an old Danish word meaning "street", and dates back to the Danish occupation of this part of England over a thousand years ago.
It does indeed, as is often asked, have a connection with executions. It led to the gallows tree, which was situated at an old crossroads where Victoria Park Gates are today.
Gallowtree Gate ran outside the town wall, and formed part of an old road which ran from London to the East Midlands. The road was turnpiked in the 18th century between Market Harborough and Loughborough.
Gallowtree Gate also contains the Thomas Cook Building, and the Sporting Success statue, commemorating the superb achievement of Leicester's teams in cricket, football and Rugby, who each won a major trophy in 1996.
Where is Gallowtree Gate?
View a map showing the location of Gallowtree Gate.
Press the 'Back' button on your web browser to return here.