The Seamstress Statue (Leicester)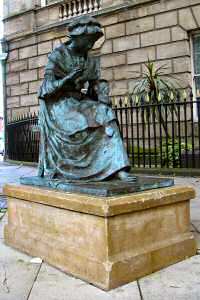 The Seamstress is a much-loved statue in Leicester City Centre.
It can be found in Hotel Street, off Horsefair Street, outside the City Rooms.
The Seamstress is not meant to be a particular person, but represents the importance to Leicester of the hosiery industry. Socks and stockings have been made in abundance in Leicester. The Seamstress is shown putting a seam into a stocking.
The statue was sculpted by James Butler, who also created two other statues in Leicester.
One of these is Richard III, the tragic and much-maligned king who was killed at the Battle of Bosworth, near Market Bosworth in Leicestershire, and buried at the Grey Friars in Leicester.
The other is the Thomas Cook Statue, whose first ever trip was from Leicester to Loughborough to a Temperance meeting.
Where is The Seamstress Statue?
View a map showing the location of The Seamstress Statue.
Press the 'Back' button on your web browser to return here.