Thomas Cook Building (Leicester)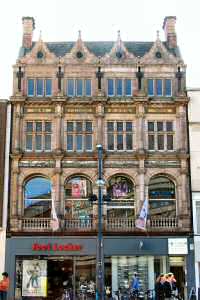 The Thomas Cook Building in Leicester is a memorial to one of the city's best-known adopted sons.
It is situated in Gallowtree Gate, the pedestrianised shopping street in the City Centre, close to the Clock Tower.
The architect was Joseph Goddard, who was also responsible for the Clock Tower and the Midland Bank (HSBC), and it was built in 1894 as a memorial to Thomas Cook, who died in 1892.
Above the offices there is a frieze, with four panels showing details of his career.
The first panel shows the very first trip which he organised in 1841, by train from Leicester to Loughborough to a Temperance meeting. The second, dated 1851, shows an excursion to the Great Exhibition in London. The third panel is dated 1884, and shows his company taking men and supplies to the war in Sudan. The last one is from 1891, and promotes the idea of travelling across the recently opened Forth Bridge.
Outside Leicester Station stands the Thomas Cook Statue, while a number of plaques may be found around the City Centre and at Loughborough, Market Harborough and Kibworth. He is buried at Welford Road Cemetery.
Where is Thomas Cook Building?
View a map showing the location of Thomas Cook Building.
Press the 'Back' button on your web browser to return here.