Welford Road Cemetery (Leicester)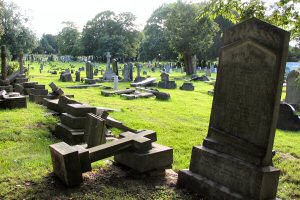 Welford Road Cemetery is Leicester's major burial place.
It is situated in Welford Road, one of the major routes leading Southward from the City Centre towards Knighton and Aylestone. The main Welford Road Cemetery Gates are on the left, just over the railway bridge. Welford Road is the A50.
This magnificent Victorian necropolis was opened in 1849, after the churchyards in the Old Town became too full to cope with more burials.
It was built on what was then the edge of the town, affording superb views across what is now the City Centre and towards Charnwood Forest, including Bardon Hill near Coalville, the highest point in Leicestershire.
Welford Road Cemetery is the burial place of many prominent citizens, the most famous of whom is the travel pioneer Thomas Cook.
Where is Welford Road Cemetery?
View a map showing the location of Welford Road Cemetery.
Press the 'Back' button on your web browser to return here.