Castle Gardens (Leicester)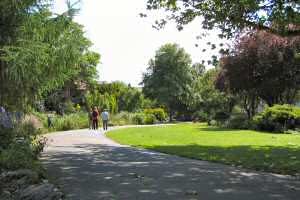 Castle Gardens in Leicester can be found beside the canal, with an entrance in St. Nicholas Circle, just off the city's inner ring road and opposite the Holiday Inn. Another entrance is in The Newarke, which can be found off Western Boulevard, and a third is in Castle Street, off St. Nicholas Circle and beside St. Mary de Castro Church.
The gardens were created from what had previously been waste ground, but had originally been part of the castle complex.
Overlooking the gardens is the Great Hall of Leicester Castle, originally built just after the Norman Conquest, but destroyed and rebuilt in the aftermath of a disastrous rebellion against Henry II in 1173.
Just inside the St. Nicholas Circle entrance is a statue of Richard III, the tragic and much-maligned king who lost his life and his crown at the Battle of Bosworth, and whose body was brought back to Leicester and buried at the Grey Friars.
At the other end of the gardens is a children's performance area, used for storytelling and puppet shows. There is also a Maypole.
A path and steps lead from the gardens to the Motte of the Castle, which is accessible to the public.
Where is Castle Gardens?
View a map showing the location of Castle Gardens.
Press the 'Back' button on your web browser to return here.