Old Belgrave (A Guided Walk in Leicester)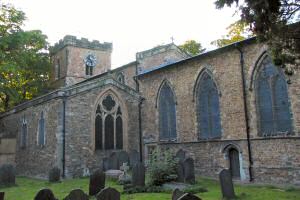 "Old Belgrave" is one of the more popular Guided Walks in Leicester. It is devised and led by Blue Badge Guide Colin Crosby, of Colin Crosby Heritage Tours.
These strolls are a most enjoyable way of soaking up some Local History.
Belgrave is one of six former villages that are now suburbs of Leicester, but where a careful look will reveal aspects of their village origins. The others are Humberstone, Evington, Knighton, Aylestone and Braunstone.
The walk starts outside St. Peters Church, Belgrave in the leafy cul-de-sac named Church Road, off Thurcaston Road.
St. Peter's dates back to the 12th century, and has many ancient gravestones in the churchyard. It is still very much an operational church.
Also in Church Road is Belgrave Hall, an 18th century mansion which was once the home of John Ellis, a local businessman who was instrumental in the creation of the Leicester to Swannington Railway, engineered by Robert Stephenson and one of the very first railways to be constructed.
Belgrave Hall is now open as a Museum, with beautiful gardens, and is internationally famous as a haunted house. A few years ago, closed circuit television cameras caught what appears to be the ghost of an old lady, and this has encouraged visitors from all over the world.
Belgrave House is another 18th century mansion in Church Road. This house, while in the ownership of Leicester City Council, is not open to the public.
The walk incorporates the path beside the beautiful River Soar, viewing Abbey Pumping Station, now a museum of technology including hygiene, and the National Space Centre, opened in 2001 as one of Britain's major Millennium projects.
Dates, costs and where to meet
A place on 'Old Belgrave' costs £6.00 per person, or £5.00 if paying in advance. The guided walk begins at St. Peters Church, Belgrave, and is running on:
I'm sorry, but there are no plans to run this event at present.
If you would like to book a place on one of these dates, please telephone Colin on (0116) 2611576 or email him at colin@crosbyheritage.co.uk.