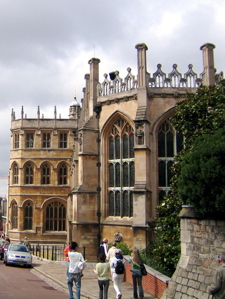 Edward III was King of England for fifty years, one of the longest reigns in our country`s history, during the 13th century.
He is widely regarded as one of England`s greatest kings.
Edward was born at Windsor Castle in 1312, the son of Edward II and his Queen Isabella, and was regarded as a handsome youth.
In 1327, after the forced abdication of his father, who was subsequently and notoriously murdered at Berkeley Castle, Edward became king, and was crowned at Westminster Abbey. But he was only fourteen years old, and not old enough to take proper control. The real power lay with his mother and her lover, Roger Mortimer.
Shortly after his accession, Edward led an army into the North of England to counter attacks from Scotland, but he was not very successful and returned to York. At the Treaty of Northampton in 1328, he formally recognised Scotland as an independent state. As part of the treaty, Edward`s sister Joan was married to David II, the infant son of Robert Bruce.
Edward married Philippa of Hainault, daughter of William V, Count of Hainault, at York Minster in 1328, and they embarked on a happy married life. In the meantime, Edward made tentative moves towards claiming the crown of France.
In 1330, Edward decided that he would be a proper king. Mortimer had continued to exercise real power, sometimes savagely. He had the king`s uncle, Edmund, the Earl of Kent, executed, which seems to have been the spur for Edward to take action.
With the help of the powerful Henry, Earl of Leicester, his men stormed Nottingham Castle, using the cave still known as Mortimer`s Hole, and dragged Mortimer from Isabella`s arms. He was quickly tried and convicted, then hanged, drawn and quartered at Tyburn in London. He had the distinction of being the first to be executed there. Isabella was teated with respect, and allowed to live quietly in retirement at Castle Rising.
From this point, Edward assumed control of his kingdom.
At first, he turned his attention to Scotland, where his brother-in-law David II was the boy king. Edward Balliol, the son of John Balliol, believed that he had a better claim, and Edward supprted him. In an extraordinary period between 1332 and 1336, both David and Edward Balliol were deposed twice.
Edward had been involved in this on Balliol`s side with a victory at Halidon Hill in 1334, the first time that the English and Welsh longbowmen demonstrated their awe-inspiring skill which was to serve England so well for so long.
But Balliol realised that he could only rule Scotland with Edward`s support, and gave up in 1336, leaving David to continue what became quite a long reign.
In 1337, Edward renewed his claim to the crown of France, starting what came to be known as the Hundred Years` War. He won a major naval battle off Sluys in Holland, and occupied Brittany, but found the cost of maintaining an army overseas crippling.
In 1346, Henry, Earl of Derby and later of Leicester, regained Gascony for Edward, who followed this up with an invasion force into Normandy, where he created much havoc before winning the famous Battle of Crecy, against a French force superior in numbers.
He laid siege to Calais, and when that city finally capitulated he demanded the lives of several of its leading citizens. Queen Philippa, however, pleaded with him successfully for their lives. This is the incident that is depicted in Rodin`s sculpture in Calais called "The Burghers of Calais", a copy of which stands outside the Houses of Parliament.
While this was going on, there was an invasion from Scotland. It was dealt with decisively by an army led by the Archbishop of York at Neville`s Cross, near Durham. David II was taken prisoner and brought to England.
Edward proceeded to create a court at Windsor based on the legends of King Arthur, Camelot and the Round Table, and invited nobles from across Europe to join him. He established the Order of the Garter, the highest order of English chivalry, in 1348, which has always been restricted to twenty five members. His eldest, son, Edward of Woodstock, the Black Prince, was given the honour of being the first member.
But in spite of all this glory, it was a period when England, like the rest of Europe, succumbed to a deadly disease, the Black Death, which entered the country at Weymouth in 1348 and proceed to kill a third of England`s population, amounting to about a million people.
In 1350, Philippe VI of France died and was succeeded by his son Jean II. Hostilities broke out again, and in 1356 England won a decisive victory under the Black Prince at Poitiers in 1356. Jean was brought to England and held captive for ransom at St. Albans. A treaty led to Edward`s sovereignty over Aquitaine and Calais being acknowledged, and in return Edward dropped his claim to the French crown.
From this point, Edward`s star waned. The Black Death returned in 1361, Jean II was unable to raise the required ransom and died in London, the Black Prince became ill and a shadow of his former self, and the French attacked and burned Portsmouth in 1369.
Edward`s beloved Queen Philippa, his companion for forty years, died in 1369 at Windsor Castle, and was buried at Westminster Abbey. In her final years, Edward had taken a mistress, Alice Perrers, who bore him three children, gave him gonorrhea, and turned out to be grasping and selfish. She was banished from the court in 1376.
In 1376, the Black Prince died. He had long been regarded as a hero, but while undoubtedly brave and a good general, he was personally cruel, foul-mouthed and bad tempered. The king himself died of a stroke at Sheen Palace in 1377, and it is said that Alice Perrers, who had managed to get into the court to pay her last respects, robbed him of the rings from his fingers as he lay dying. He was buried at Westminster Abbey, with an inscription on his tombstone that read "the glory of the Engish, the flower of kings past, a pattern for kings to come". He was succeeded by his grandson Richard II.
In some ways, Edward had been a great and strong king, but it is difficult to see much lasting benefit that he left to his country, although he restored some dignity to the kingship after his father`s disastrous reign. It was his descendants who began the unseemly squabbles that became known as the Wars of the Roses.
Edward and his Queen Philippa had thirteen children.
Edward of Woodstock, known as the Black Prince, was born in 1330 at Woodstock Palace. He married Joan, the Fair Maid of Kent, at Westminster Palace in 1361, and their children included Richard II. She died in 1385 at Wallingford Castle and was buried at the Greyfriars at Stamford. The Black Prince himself died in 1361 at Westminster Palace in 1376, and was buried at Canterbury Cathedral.
Isabella was born in 1332 at Woodstock Palace.She married Enguerrand II, Earl of Bedford in 1365 at Windsor Castle, and died in 1382. She was buried at the Greyfriars in Newgate.
Joan was born in 1335 at Woodstock Palace. She died of the Black Death at Bordeaux, where she was buried.
William was born in 1334 at Hatfield in Yorkshire. He died in 1337 and was buried at York Minster.
Lionel was born in 1338 at Antwerp.He married Elizabeth, daughter of William de Burgh, in 1342, firstly at the Tower of London and secondly at Reading Abbey. He died in 1368 in Piedmont, and was buried at Pavia in Italy, but his remains were later removed to Clare Priory.
John of Gaunt was born in 1340 at Ghent in Flanders. He held the titles Earl of Derby, Earl of Lancaster and Earl of Leicester and also claimed to be King of Castile. He married three times.
His first marriage was in 1359 at Reading Abbey, to Blanche, daughter of Henry of Grosmont. She died in 1369 of the Black Death at Bolingbroke Castle, and was buried at Old St. Pauls Cathedral. Their children included Henry IV.
His second marriage was in 1371 at Roquefort, to Constance, daughter of Pedro I of Castile. She died in 1394 at Leicester Castle, and was buried at Trinity Hospital in Leicester.
His third marriage was in 1396 at Lincoln Cathedral, to Katherine Swinford, his former mistress. Their children were the Beauforts. She died in 1403 at Lincoln and was buried at Lincoln Cathedral.
John of Gaunt died in 1399 at Leicester Castle, and was buried at Old St. Paul`s Cathedral.
Edmund was born in 1341 at Kings Langley. He married firstly in 1372 at Hertford Castle, Isabella, daughter of Pedro I of Castile. She died in 1392 and was buried at the Church of the Dominican Friars at Kings Langley. He married secondly, in 1393, Joan, daughter of Thomas Holland, Earl of Kent. She died in 1434, having been remarried twice after Edmund`s death. Edmund died in 1402 at Kings Langley and was buried at the church of the Mendicant Friars at Kings Langley.
Blanche was born in 1342 in the Tower of London. She died while still a baby, and was buried in Westminster Abbey.
Mary was born in 1344 at Bishop`s Waltham. She married John de Montfort IV, Duke of Brittany, at Woodstock Palace in 1361, and died in 1361, being buried at Abingdon Abbey.
Margaret was born in 1346 at Windsor Castle. She married John Hastings, Earl of Pembroke, in 1359 at Reading Abbey. She died in 1361 and was buried at Abingdon Abbey.
Thomas was born in 1347 at Windsor Castle. He died in 1348 and was buried at Kings Langley Church.
William was born in 1348 at Windsor Castle. He died while still a baby and was buried at Westminster Abbey.
Thomas was born in 1355 at Woodstock Palace. He married Eleanor, daughter of Humphrey de Bohun, Earl of Hereford, Essex and Northampton in 1374. She died in 1399 at the Minoresses` Convent in Aldgate, and was buried at Westminster Abbey. Thomas was taken in 1397 on the orders of Richard II, from Pleshey Castle by way of Leigh to Calais, where he was murdered. He was buried at Holy Trinity Church at Pleshey.
Edward III had three children by Alice Perrers.
John de Surrey was born in 1364, was married to Matilda Percy, and died in 1384.
Joan married Robert Skerne of Kingston-upon-Thames.
Joan married Richard Northland.
Edward III also had a child by an unknown mother, Nicholas Lytlington, who became Abbot of Westminster and died in 1386.
Posted by colin on Tuesday 2nd December, 2008 at 10:47am