Derby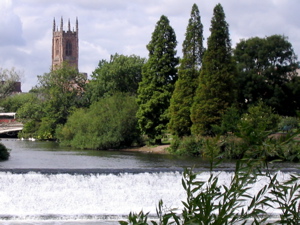 Derby is a largely industrial city in Derbyshire, 15 miles to the West of Nottingham.
During the Anglo-Saxon period Derby was, along with Leicester, Lincoln, Nottingham and Stamford, one of the famous Five Boroughs of the Danelaw.
Derby Cathedral is the former parish church, elevated to its present status in 1927. It contains the tomb of Bess of Hardwick.
Royal Crown Derby, close to the City Centre, make exquisite porcelain, while the city is also well known for its powerful Rolls Royce engines, and for trains.
The City Museum and Art Gallery has fine collections, not only of porcelain, but also of the works of the 18th century painter Joseph Wright of Derby.
It was at Derby in 1745 that Charles Edward Stewart, known to posterity as Bonnie Prince Charlie, turned his army back to Scotland, when everybody had expected him to advance on London. He was pursued and suffered disastrous defeat at Culloden.
Derby was declared a city in 1977, to celebrate the Queen's Silver Jubilee.
People born in Derby include the philosopher Herbert Spencer, who coined the phrase "survival of the fittest"; author of cookery and flower arranging books Constance Spry; and painter Joseph Wright of Derby.
Blue Badge Guide Colin Crosby is available to lead Guided Walks around Derby for groups.