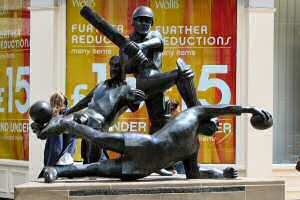 A party of visitors who had booked through Saga Holidays were treated recently to a talk about Leicester and the surrounding countryside.
Saga run a series of holidays each year, based at Leicester University, and among the scheduled visits is a talk by me giving an idea of the interesting things one can see and do.
The talk this time was at Beaumont Hall, one of the University`s Halls of Residence.
I gave an idea of Leicester`s age - it is after all one of the oldest towns in the country. Colchester is the oldest, but Leicester is one of the next few. It is also in the top ten largest cities of today`s England.
Leicester has the largest free standing piece of masonry of a civil nature still standing in Britain - the Jewry Wall. It was the birthplace of modern tourism, Thomas Cook having organised his very first excursion from Leicester to Loughborough in 1841.
I talked about the five mediaeval churches (including Leicester Cathedral) that can still be found in the Old Town; about the museums (including New Walk Museum and the iconic National Space Centre); about the lovely parks; and the steam Great Central Railway, which still runs between Leicester and Loughborough.
It`s always difficult to fit much in in the small amount of time available, but I managed to mention Loughborough (famous for its Bell Foundry); Melton Mowbray (for hand raised pork pies and Stilton cheese); Market Harborough ( for corsets); and Market Bosworth (where Richard III lost his life).
One of the big pluses for me is that I can chat to people from all over the country. This time I had the pleasure of talking to visitors from Colchester; Folkestone; London; and St. Albans.
I look forward to meeting you when you book on one of Saga`s Leicester holidays!
Posted by colin on Sunday 24th August, 2008 at 8:29am