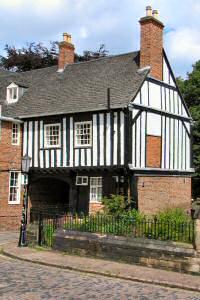 I recently gave another talk about Leicester for holidaymakers, at the halls of Residence of Leicester University.
Saga have been running holidays in Leicester for the over fifties for a good few years now, and the second night is always taken up with me giving an overview after dinner of the fascinating things that can be seen and done in this ancient city and the beautiful Leicestershire countryside.
I give an idea of Leicester highlights, such as Leicester Cathedral, the Jewry Wall, New Walk Museum, Abbey Park and the National Space Centre, and usually include some interesting facts about such excellent towns as Loughborough, Market Harborough, Melton Mowbray and Oakham.
Personally, I always enjoy the fact that members of the group come from all over the country. This time, for example, I was able to chat to people from Colchester, Pontefract, Westgate on the Isle of Thanet and York.
Posted by colin on Friday 4th September, 2009 at 8:00am