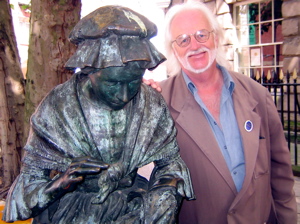 On the first day of the New Year, it might be worth giving you an idea of some of the Guided Walks and Coach Trips on which you could join me in 2007.
All the Coach Trips start at St. Margarets Bus Station in Leicester.
If you are interested in an excursion to a historic town or city, being shown around on a Guided Walk, there are several that you could choose from. I will be leading trips to Oxford (Sat 27 Jan); Ripon (Sat 31 Mar); Maldon (Sat 26 May); Whitby (Sat 28 Jul); Tewkesbury (Wed 29 Aug); and Carlisle (Sat 17 Nov).
If you like the tours with three stops at nice towns, you can choose from Mysterious Wiltshire Tour (Wed 11 Apr); Essex Villages Tour (Wed 11 Jul); Suffolk Tour (Sat 29 Sep); and Forest of Dean Tour (Wed 24 Oct).
There is also the chance to sample the Portsmouth Festival of Christmas (Sat 1 Dec), as well as Rufford Abbey (Sat 12 May); and Ironbridge Gorge Tour (Sun 1 Jul).
If you would like to sample the morning trips, which run from 9.30am to 2pm, these are Free Mystery Tour (Tue 20 Feb); Da Vinci Code Tour (Tue 6 Mar); Derbyshire Borders Tour (Tue 5 Jun); Hidden Leicestershire Tour (Tue 14 Aug); and Welland Valley Tour (Tue 9 Oct).
Of course there are Guided Walks around the Leicestershire and Rutland area throughout the year, the first of which are Welford Road Cemetery (Sun 7 Jan); and Haunted Leicester(Wed 10 Jan).
I also lead some walks in the Essex area from time to time. In 2007 these are Hadleigh (Essex) (Sat 8 Sep); and Prittlewell (Sun 9 Sep).
And there are also walks in London, where I run two walks on the same day. This year it's Churches of London and Jack the Ripper (Sat 24 Mar); and two new ones, Waterside London and Haunted Westminster (Sat 3 Nov).
Happy New Year - hope to see you on some of these.
Posted by colin on Monday 1st January, 2007 at 1:17pm