Welford Road Cemetery (A Guided Walk in Leicester)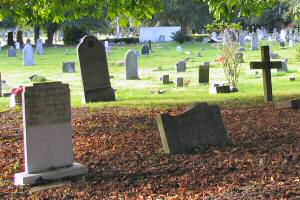 "Welford Road Cemetery" is one of the most popular of the wide range of Guided Walks devised and led by Blue Badge Guide Colin Crosby, of Colin Crosby Heritage Tours.
These strolls are an enjoyable way of soaking up some Local History.
The walk starts at Welford Road Cemetery Gates in Welford Road, beside the railway bridge.
As the title implies, this is a walk round Leicester's magnificent Victorian necropolis, discussing some of the fascinating local worthies who are buried there.
People are always interested to see around this cemetery, and of course many Leicester citizens have relatives buried there.
Welford Road Cemetery was opened in 1849, on the same day that saw the opening of Leicester's excellent New Walk Museum.
Colin begins the walk by discussing the reasons for the establishment of a cemetery at this time, when all the churchyards of the Old Town had become full.
Although the cemetery is now in what would normally be described as "inner city", in 1849 it was right on the edge of the town. The railway line, still there today, had arrived a few years before, and the only building anywhere near was the asylum, which is now part of Leicester University.
The next settlement outside Leicester was the tiny village of Knighton.
Among the people buried here are many of the most prominent Leicester citizens of the last one and a half centuries.
Thomas Cook is probably the best known. In 1841, he organised an excursion from Leicester to Loughborough, thus ushering in the age of modern tourism.
Frederick Goodyer was Leicester's first Chief Constable, and went on to be Chief Constable of Leicestershire.
William Gardiner, hosiery manufacturer and amateur musician, was the man who popularised Beethoven's music in England.
Mary Royce was Leicester's first woman doctor, and the founder of the Royce Institute.
Bert Harris was a cycling champion,who died from his injuries after crashing in a race.
Henry Nicholson led the Duke of Rutland's military band, and organised concerts by eminent musicians including Nicolo Paganini and Franz Liszt.
And of course here are many others, including mayors, philanthropists and architects.
Colin leads another Guided Walk around the same cemetery, as there are far too many interred here for just one walk. It is called "Grave Attraction". He also leads a walk round Belgrave Cemetery.
Dates, costs and where to meet
A place on 'Welford Road Cemetery' costs £6.00 per person, or £5.00 if paying in advance. The guided walk begins at Welford Road Cemetery Gates, and is running on:
I'm sorry, but there are no plans to run this event at present.
If you would like to book a place on one of these dates, please telephone Colin on (0116) 2611576 or email him at colin@crosbyheritage.co.uk.