Oxford (A Coach Trip in Oxford)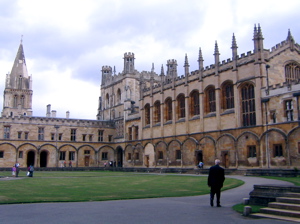 "Oxford" is a Coach Trip devised and led by Colin Crosby, of Colin Crosby Heritage Tours, the well known Blue Badge Guide.
These excursions are a most enjoyable way of soaking up some Local History.
The coach leaves St. Margarets Bus Station in Leicester City Centre at 8am, and is expected to return about 9.30pm.
Colin gives his usual commentary along the way, bringing interesting sights on the journey to life.
Oxford is a very historic city on the River Thames, and is often known as "the city of dreaming spires". It is of course world-famous for its University, dating from the 12th century.
Colin will be leading a Guided walk around Oxford in his inimitable manner, pointing out many places of interest, including Christ Church College and Cathedral, the Martyrs Memorial, the Carfax Tower, Sir Christopher Wren's Sheldonian Theatre and the Ashmolean Museum.
Dates, costs and where to meet
A place on 'Oxford' costs £21.00 per person, or £21.00 if paying in advance. The coach trip begins at St. Margarets Bus Station, and is running on:
I'm sorry, but there are no plans to run this event at present.
If you would like to book a place on one of these dates, please telephone Colin on (0116) 2611576 or email him at colin@crosbyheritage.co.uk.