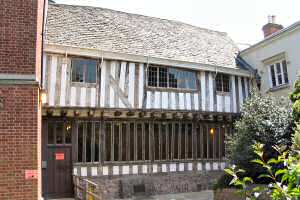 I led a private Guided Walk around Leicester recently for a group known as Evington Walkers.
I t was the popular walk that I call "Historic Leicester", and which gives a good overview of two thousand years of history in this ancient city which is one of the oldest towns in Britain.
Starting at the Town Hall, we moved down to Leicester Cathedral, one of five mediaeval churches in the Old Town, and past a number of historic buildings including the Guildhall and Wygstons House.
The walk also encompassed such important edifices as the Jewry Wall, the Richard III statue, St. Mary de Castro Church and Leicester Castle.
Any group wishing to arrange a similar walk is invited to get in touch with me. I will be pleased to hear from you.
Posted by colin on Sunday 28th June, 2009 at 10:12am