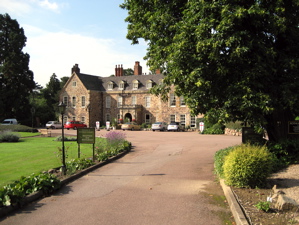 "Da Vinci Code Tour" was the title of the latest morning Coach Trip around the East Midlands.
These morning trips are very popular with people who are happy to be out for just half a day. They start from St. Margarets Bus Station in Leicester City Centre at 9.30am, and return about 2pm.
On the way I give my usual commentary, and there is always a stop about halfway round at a nice place where one can buy coffee, tea, etc.
This tour of course looked at places around the Leicestershire area with connections to the mysteries involved in the famous Dan Brown novel "The Da Vinci Code" and the subsequent film directed by Ron Howard and starring Tom Hanks.
I started by giving a quick resume of some of the ideas involved in this book, as well as earlier volumes and folklore, involving Jesus and his family, the Holy Grail, the Priory of Sion and the Knights Templar.
As we wended our way through the Leicestershire countryside, we passed through Gaddesby, once owned by the Knights Templar and where St.Lukes Church was made magnificent through their money.
We went through Melton Mowbray and saw a gateway from a hospital operated by the Knights Hospitaller.
Then it was on through lesser-known parts of the country, including Buckminster with its early minster church and close to King Lud's entrenchments, with their legendary connections with early British kings.
We passed through the area associated with Sir Isaac Newton, born on the Lincolnshire border, who is alleged to have been Grand Master of the shadowy Priory of Sion.
Then it was time for our stop, which I had arranged at the fabulous Belvoir Castle, used as a location for the film. From its lofty position high above the Vale of Belvoir, it is said that on a clear day Lincoln Cathedral can be seen. This cathedral had a starring role in the film, playing the part of Westminster Abbey.
There was one more bonus stop, at the Rothley Court Hotel, where I was able to take the party into the surviving mediaeval Knights Templar Chapel. I also pointed out, topically for this year, where the Parliamentary Bill to abolish slavery in the British Empire was drafted.
Everybody had a wonderful time, as can be seen from some of the comments in my Visitors' Book.
"Read the book - enjoyed the tour more", ""very enjoyable and informative as always", "a pleasant tour through attractive villages - Belvoir Castle was a bonus - enjoyed Colin's commentary as usual", "well thought out route across lovely villages", "lovely to see all the villages that I'd never see otherwise", "Colin makes you realise how much you don't see / know when you visit alone".
The next morning trip is "Derbyshire Borders Tour" on Tuesday 5th June. Book as soon as you like.
Posted by colin on Friday 9th March, 2007 at 9:38am