Rothley Court Hotel (Rothley)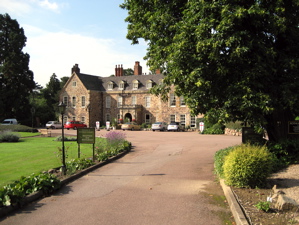 The Rothley Court Hotel stands a short distance outside the old Leicestershire village of Rothley, on the edge of Charnwood Forest.
It is based on a preceptory of the Knights Templar, and in fact the Knights Templar Chapel still stands.
The estate came into the hands of the Babington family in 1536, and they retained it even after the Babington Plot against Elizabeth I.
The eminent Victorian writer and historian Thomas Babington Macaulay was born in the house, and when many years later he was ennobled he took the title Baron Macaulay of Rothley.
On the lawn outside the hotel is a stone commemorating the fact that the Parliamentary Bill to outlaw slavery was drafted on this spot.
The Rothley Court Hotel is now a well respected one, and is licensed for weddings.