Knights Templar Chapel (Rothley)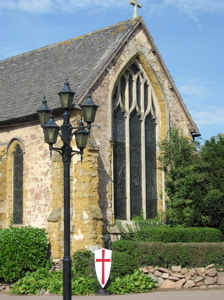 The Knights Templar Chapel is a mediaeval survival in the historic Leicestershire village of Rothley.
The Knights Templar, who protected pilgrims travelling to the Holy Land, had a preceptory at Rothley. This was the Templar equivalent of a monastery.
The chapel itself probably dates from1231, when the Templars were given the land by Henry II.
In 1312, at the suppression of the Knights Templar by the Kings of England and France, the estate passed into the hands of the Knights Hospitaller.
The chapel is in a fine condition, and is one of only a few in England to survive. Others are the Temple Church in London; Duxford in Cambridgeshire; Temple Balsall in Warwickshire; and Ribston in West Yorkshire.
The chapel is now connected to the Rothley Court Hotel.
Interest in the Knights Templar has increased hugely in the last few years, with the publication of the best selling books "The Holy Blood and the Holy Grail" and "The Da Vinci Code", and the film of the latter.