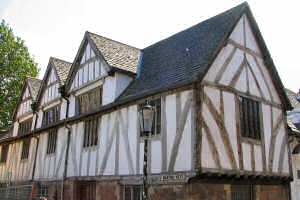 I led a Guided Walk around the oldest parts of Leicester recently for delegates to a conference.
The visitors, from around the world, were in Leicester for a law conference at De Montfort University, and I was asked to show them some of the historic aspects of this ancient city.
I took them on a version of my popular "Historic Leicester" walk.
Starting at the Town Hall, they saw such buildings as Leicester Cathedral, the Guildhall, Wygstons House, St. Nicholas Church, the Jewry Wall, St. Mary de Castro Church and Leicester Castle, and learned the local significance of, among others, Richard III, Thomas Cook and BBC Radio Leicester.
The walk ended this time at the Queen`s Building, where they were to have lunch.
I am happy to arrange this walk for any group, whether local people or visitors. Feel free to get in touch.
Posted by colin on Tuesday 19th May, 2009 at 8:16am