Welford Road Cemetery Gates (Leicester)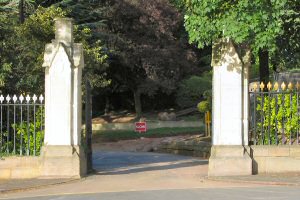 The gates to Welford Road Cemetery can be found in the busy Welford Road itself, beside the railway bridge on the way out of Leicester City Centre, leading towards Knighton and Wigston.
The cemetery was opened in 1849, when the churchyards in the Old Town could no longer be used. The site was chosen as it was on the edge of the town, with only the recently opened railway to London and the asylum nearby. The asylum is now part of Leicester University.
Another reason for the selection of the site was the views afforded to visitors. There were no public parks at this time, and families were encouraged to promenade in the cemetery.
The views are still extensive today, across the bowl (an extinct volcano) that contains Leicester City Centre to Charnwood Forest, and to Leicestershire's highest point, Bardon Hill near Coalville.
In the foreground can be seen many of Leicester's prominent buildings, including the five mediaeval churches, Town Hall, Leicester Prison and the Walkers Stadium, Leicester City's new football ground.
The opening ceremony was presided over by the Mayor, William Biggs, who also opened New Walk Museum on the same day.