Welford Road Graves (A Guided Walk in Leicester)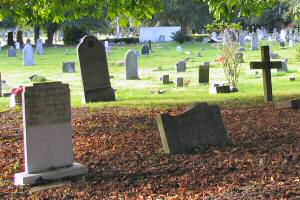 "Welford Road Graves" is one of the very popular Guided Walks devised and led by the well known Blue Badge Guide Colin Crosby, of Colin Crosby Heritage Tours.
These walks are an ideal and enjoyable way to soak up some Local History.
This one is a stroll around Welford Road Cemetery, the magificent Victorian necropolis in Leicester that was opened in 1849, on a site that was then outside the town.
The starting point is Welford Road Cemetery Gates on Welford Road, just past the railway bridge.
Colin devised this walk after having been frustrated for some years because his "Welford Road Cemetery" walk, fascinating and popular though it is, necessarily misses out a lot of interesting people due to time restraints.
So "Welford Road Graves" is a sort of continuation. If you enjoy one, you will undoubtedly enjoy the other.
Among the people discussed on this walk are the lady in whose honour the Ethelfleda statue was erected, the man who was instrumental in the establishment of one of the world`s first railways, the founder of a well known dynasty of architects and the man who originated the modern tourism industry.
There is also a discussion of the purposes of a cemetery, and Colin points out a number of landmarks around the city and county from this excellent vantage point.
As well as the two Welford Road Cemetery walks, Colin leads a Guided Walk around "Belgrave Cemetery".
Dates, costs and where to meet
A place on 'Welford Road Graves' costs £6.00 per person, or £5.00 if paying in advance. The guided walk begins at Welford Road Cemetery Gates, and is running on:
I'm sorry, but there are no plans to run this event at present.
If you would like to book a place on one of these dates, please telephone Colin on (0116) 2611576 or email him at colin@crosbyheritage.co.uk.