Leicester Prison (Leicester)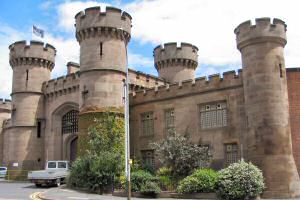 Her Majesty's Prison, Leicester, can be found in Welford Road, on the road leading South out of the City Centre towards Knighton and Wigston Magna. This road is the A594.
The prison was built by William Parsons in 1828.
People often ask if this is Leicester Castle, because its battlemented walls and entrance have that air about them. There is a Leicester Castle, but this is not it.
William Cobbett, who wrote about his journeys around England in the 19th century, castigated the people of Leicester for being proud of their prison. He felt it would be more praiseworthy to have an absence of crime.
The last public hanging to take place outside the prison was in1856. A young man from Melton Mowbray named William Brown and nicknamed "Peppermint Billy" had committed a double murder. His hanging attracted a crowd of 25,000.
The walls of Leicester Prison are the highest in the country.
Where is Leicester Prison?
View a map showing the location of Leicester Prison.
Press the 'Back' button on your web browser to return here.