Market Place (Melton Mowbray)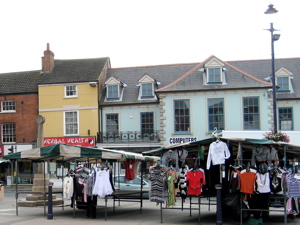 The Market Place in the famous Leicestershire town of Melton Mowbray is a very busy one.
It contains a Butter Cross, a modern construction on the site of the mediaeval one, and there is also a modern Corn Cross on the original site.
The market is so busy that it extends along Sherrard Street in one direction, and Nottingham Street in another.
The Swan Porch is a fragment of the ancient Swan Inn. This was one of the buildings painted red in the early 19th century by the aristocratic hooligan the Marquess of Waterford, giving rise to the world famous expression "painting the town red".
Local produce that can be bought on or near the market includes Melton Mowbray hand raised pork pies, Stilton cheese and Red Leicester cheese. There was formerly an annual Stilton cheese fair in the Market Place.
Cattle and sheep were formerly sold here, but in the 19th century these animals were moved to the Cattle Market, which is still a very busy one of its type.