Ye Olde Pork Pie Shoppe (Melton Mowbray)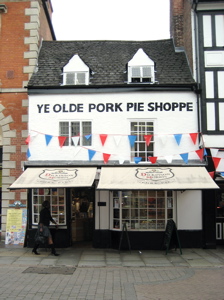 The Old Pork Pie Shoppe is without a doubt the most famous retail establishment in the outstanding Leicestershire market town of Melton Mowbray.
Situated in Nottingham Street, it is operated by Dickinson and Morris, one of the makers of the unique hand raised Melton Mowbray pork pies, which are only made in Melton and the surrounding area.
In addition to the pork pies, the shop also sells the local Hunt Cake, a very rich fruit cake, and local sausages, as well as the other well known delicacy only made locally, Stilton cheese.
Groups can make arrangements to be shown the process involved in the making of the pies, and also to have a go at making their own.