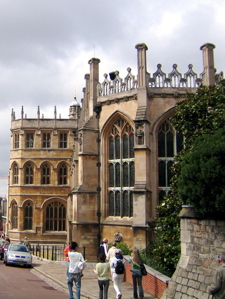 Henry VIII was one of the most famous Kings of England, although some might say notorious.
The image that has come down to us today is of an obese and cruel monster and tyrant, who married lots of women and had them all beheaded.
Although there is some truth in this, the reality is much more complex and much less reprehensible.
Henry was born at Greenwich Palace in 1491, the third child (and second son) of Henry VII and Elizabeth of York. His elder brother Arthur was heir to the throne, and had even been given a name that would show the country returning to a Golden Age. Henry, the Duke of York, was groomed for the church, and consequently received a good classical education.
However, in 1502 Arthur died of consumption at Ludlow where he lived with his young wife Catherine of Aragon.
The ten year old Henry thus became the heir. He was a happy outgoing young man, continuing his education and becoming proficient in French and Latin, while also becoming a fine athlete, rider, dancer and musician. It is quite likely that "Greensleeves" was composed by him. He was keen to tour the country, and his open friendliness made him popular with people of all classes.
Henry VII died in 1509, and his son succeeded as Henry VIII a little short of his 18th birthday. His father`s dying wish was that he marry his brother`s widow Catherine, with which he swiftly complied, and both were crowned at Westminster Abbey.
Satisfying himself that his ministers were up to the job and to be trusted, he took little part in the day to day affairs of state. To general joy, in 1511, Catherine gave birth to a son named Henry, but he died after only a few weeks.
He began to interest himself in European matters, joining in what was known as the Holy League against France. This was not approved of by James IV of Scotland, who warned that it could lead to war against his country.
When Henry led an invasion force to Calais in 1513, James took advantage of his absence to invade England, but Henry had expected this to happen and sent Thomas Howard, Duke of Norfolk, to intercept the Scots. This resulted in the Battle of Flodden Field, where James and much of the Scottish nobility were killed. Henry`s sister Margaret became Regent for the new king, James V, who was only a year old, and Henry began to style himself King of Scotland.
Thomas Wolsey, the ambitious churchman from Ipswich, rose to power about this time, having been appointed Bishop of Lincoln in 1512 and Archbishop of York in 1514, and negotiated peace terms with France in 1514. Among the terms was the marriage of Henry`s sister Mary to Louis XII. She was duly married and widowed a few months later, but then married her first love Charles Brandon, Duke of Suffolk, in secret in 1515. Henry did not approve, although he eventually forgave them, but only after payment of a large fine.
Henry continued to be ambitious, desiring to be more important than just the King of England. When Maximilian I, Holy Roman Emperor, died in 1519, Henry stood as a candidate, but unsuccessfully.
Wolsey, who had become a Cardinal in 1515, organised a summit meeting between Henry and the new French King Francois in 1520, intended to cement a proposed marriage between Henry`s daughter Mary, who had been born in 1516, and the Dauphin. So extravagant were the displays from both sides that the meeting became known as the Field of the Cloth of Gold. The rich furnishings on the English side were created at Stamford. The marriage, however, never took place.
It was about this time that the German preacher Martin Luther began to make his presence felt, attacking the established Church in his book "On the Babylonish Captivity of the Church" in 1520. He had been heavily influenced by the writings of John Wycliffe, the 14th century Rector of Lutterworth.
Henry felt that he should defend the Church against this attack, and accordingly wrote a riposte, "Defence of the Seven Sacraments", in which he was helped by John Fisher and Thomas More. Pope Leo X, in gratitude for Henry`s support, conferred on him the title Fidei Defensor, Defender of the Faith, which has, in spite of much religious change, been used by all subsequent English monarchs.
When Pope Leo died in 1521, Henry tried hard to have an English Pope, nominating Cardinal Wolsey, but again unsuccessfully.
All this time, Henry had been hoping for a son, this being necessary for a smooth succession on his own eventual death. But Catherine, while giving birth to six children, had only produced one, Mary, who had survived past infancy. He began to believe that God was punishing him for the sin of marrying his brother`s widow, even though the union had received a Papal authorisation.
Ironically, one of his mistresses, Elizabeth Blount, had presented him with a son in 1519 when she was 17. This boy, Henry Fitzroy, Duke of Richmond, began to be regarded by Henry as his heir in the event of no legitimate son being born. He would not countenance the idea of being succeeded by his daughter, and by 1527, with Catherine having turned 40, it was evident that she was unlikely to produce an heir.
Meanwhile, Henry had become infatuated with Anne Boleyn, a 25 year old whom he had visited at Rochford Hall, and whose elder sister Mary had been his mistress for some years. Anne refused to be his mistress, holding out for marriage.
Wolsey entered into negotiation with Pope Clement VII in an effort to have Henry`s marriage to Catherine annulled. Henry claimed that his marriage to his brother`s widow was sinful and should not have been allowed.
But although Clement seemed at first to be willing to accommodate Henry, he changed his mind when leaned on by Charles V, the Holy Roman Emperor, who was Catherine`s nephew. Clement then insisted that his predecessor could not have made a mistake, and that the marriage was therefore legal after all. Anyway, Catherine made the extraordinary claim that her marriage to Arthur, involving two teenagers who were legally married to each other, was never consummated.
None of this did much good for Clement`s reputation, and led fairly directly to the Scandinavian countries breaking with Rome and introducing Lutheranism.
In 1529, the papal envoy Campeggio, sitting with Wolsey at a hearing at Blackfriars in London, adjourned the matter, causing further delay and frustration to the king. In 1530, Henry sent for Wolsey from York, and he would almost certainly have been executed for his failure, but shortly after arriving at Leicester Abbey he died.
Thomas Cromwell, who had taken over from Wolsey in matters of state, now guided Henry into the pronouncement that he was Head of a separate Church of England, having authority to appoint Bishops and Archbishops.
Henry`s new Archbishop of Canterbury, Thomas Cranmer, pronounced in 1533 that the king`s marriage to Catherine had been invalid. Henry had anticipated this by marrying Anne Boleyn in a secret ceremony at York Place in London three months earlier, when she was already pregnant.
Unsurprisingly, the Pope did not accept any of this. He reaffirmed that the marriage to Catherine was valid, and declared the marriage to Anne to be void, and threatened to excommunicate Henry.
The excommunication was suspended, but reaffirmed by Clement`s successor Paul III, although he was unable to gain international support for such a weighty decision.
Catherine, meanwhile, moved to Kimbolton in 1534 and died there in 1536, assuring Henry of her love and forgiveness.
Henry made it clear that his position was simply head of the Church in his own lands, and therefore, like the Pope, God`s representative. In other respects, he agreed with the Church`s theology. There were a number of prominent Englishmen who felt unable to go along with this, among whom were Thomas More and John Fisher, both of whom were executed in 1535.
In the meanwhile, Anne had duly given birth in 1533 to the child with whom she was pregnant at the time of her marriage. Henry was greatly disappointed when it turned out to be a girl, whom they named Elizabeth.
Cromwell advised Henry to set up a commission to report on the state of the monasteries. He had long believed that they were too powerful and were likely to be a focus for resistance to the changes. The first result of this was the suppression of the smaller houses in 1536 on the grounds that they were uneconomic.
Henry`s love for his new wife dwindled with her failure to produce a son. As well as Elizabeth, there were two stillborn children and she miscarried after the shock caused by Henry`s fall from a horse in 1536. His injuries caused his later problems with a badly ulcerated leg. He had also become besotted with Jane Seymour, one of Anne`s ladies-in-waiting, and this added to Anne`s problems pointed the way to marriage with Jane.
A vicious campaign against Anne was mounted, orchestrated by Cromwell. Henry claimed that she had bewitched him, a fairly easy claim to make in view of her association with Rochford, the capital of the notorious Essex witch country. Her extra finger and extra nipple were given as evidence.
Furthermore, she was said to have committed adultery with several men including a young musician, Mark Smeaton, and her own brother George.
Cranmer, sitting at Dunstable Priory, declared their marriage null and void, on the rather weak grounds of Henry`s earlier relationship with Anne`s sister Mary. Two days later she was arrested, tried and executed at the Tower of London.
Eleven days after Anne`s execution in 1536, Henry married Jane Seymour. She was not crowned because an outbreak of the plague in London delayed matters, and then Jane became pregnant.
Meanwhile, plans for the Dissolution of the Monasteries were moving on, and became the focus for discontent, especially in the North. A rebellion known as the Pilgrimage of Grace began in Lincolnshire in 1536 and spread to Yorkshire, led by Robert Aske. Jane interceded with her husband and he made promises to the rebels, who took his word and disbanded. But he did not keep the promises, and a few months later had over two hundred of the rebels, including Aske, executed.
The result of this was that Cromwell`s commissioners met little resistance as they moved around the counties closing down the monasteries. However, the abbots at Colchester, Glastonbury, Reading and Woburn and the prior of Lenton were all hanged after they showed dissent. More positively, in 1537 Henry authorised the reading of the Bible in English.
In 1537, to Henry`s great joy, the long awaited son arrived, when Jane gave birth to a boy, named Edward. But she was seriously weakend by the birth, and died twelve days later, being buried at St. Georges Chapel at Windsor.
The last of the monasteries to be closed was Waltham Abbey in 1540. Henry made a lot of money out of this venture, but it was similar to the privatisations of the late 20th century, in that buildings and estates were sold for a fraction of their true value, but for sums that only the rich could afford.
After Jane`s death, Henry began his search for a new wife. Cromwell advised him to look to Germany, and he settled on Anne of Cleves, helped by Hans Holbein`s portrait, which showed her in a very good light. It was later suspected that Holbein himself had been very taken with her.
Arrangements were made, and in 1540 Anne came to England to marry the king. Henry met her at Rochester, and was horrified by what he saw as considerably less than beauty.
The marriage went ahead, but was never consummated, and they were divorced seven months later. Anne readily agreed to this, and Henry was generous to her in return. The two remained good friends, with Anne being known as the King`s sister.
Cromwell was executed in 1540, and was replaced by the Duke of Norfolk. Henry by this time was no longer the handsome athletic young man that he had been when he came to the throne. Overweight and suffering with his leg, he was probably no more attractive to look at than Anne, and his demeanour had not been pleasant for a good many years.
But he determined to marry again, and did so within three weeks of his divorce. This time his wife was Catherine Howard, the eighteen year old cousin of his former wife Anne Boleyn. But she did not seem to understand that, having become Queen, she should no longer sleep with good looking young men. Her cousin`s execution should have been a clue. She continued to do so, was found out, charged with treason and executed at the Tower of London in 1542.
In the meantime, after a rebellion, Henry declared himself King, rather than Lord, of Ireland, and after James V failed to turn up for a meeting at York and Henry`s sister Margaret died, a series of skirmishes broke out along the border with Scotland. At the Battle of Solway Moss in 1542 three thousand English routed an army of ten thousand Scots, and the humiliated James died shortly after.
Henry was mightily upset by Catherine`s betrayal, and began to realise that he was no longer physically desirable. He married again, in 1543, but this time it was probably for companionship rather than for anything physical. His new bride was Catherine Parr, an older lady who had already been twice widowed. She fulfilled her role excellently, even being a kind stepmother to his three surviving children, Mary, Elizabeth and Edward, who were treated for the first time as something like a family.
Henry`s last attempt at organising a dynastic marriage was a peace treaty with the Scots whereby Henry`s son Edward was to marry Mary, the baby daughter of James V and new Queen of Scotland. But complications meant that this never came to pass.
Henry died in 1547, probably of syphilis. He was still aged only 55 but worn out by his complicated and in many ways outrageous life. After his death, his dogs were found licking the ulcerated wound on his leg. He was buried at St. George`s Chapel at Windsor alongside Jane Seymour, and was succeeded by his young son Edward VI.
His early flair and talents have been largely forgotten, but he certainly sowed the seeds of England becoming a powerful player on the national stage. The Church of England dates from his reign, although in a very different form from how he envisioned it. Interestingly, he was the first King of England to be referred to as "His Majesty".
He took a great personal interest in the Navy, and invested a great deal of money in new ships. One of these was the Mary Rose, which to his great distress he watched, from Southsea Castle, sink with great loss of life in Spithead. This castle was one of a number which he had constructed around the South coast to defend England from French attack.
Henry`s first wife was Catherine of Aragon, daughter of Ferdinand and Isabella of Spain. She was born in 1485 in Spain, and married Arthur, Prince of Wales in 1501, but he died in 1502. She married Henry in 1509, was divorced in 1533, and died, probably of cancer, at Kimbolton Castle in 1536, being buried at Peterborough Cathedral.
Henry and Catherine had six children. A daughter was stillborn in 1510. Henry was born at Richmond Palace in 1511, but died a few weeks later, and was buried at Westminster Abbey. A son was born at Richmond Palace in 1513, but died a few days later and was buried at Westminster Abbey. Henry was born in 1514, but died the same day. Mary was born at Greenwich Palace in 1516 and eventually succeeded as Mary I. A daughter was born in 1518, but died the same day.
Henry`s second wife was Anne Boleyn, daughter of Thomas Boleyn, Earl of Wiltshire, and Elizabeth Howard, daughter of the Duke of Norfolk. She was born in 1500 at Blickling Hall, and married Henry secretly at York Place in London. She was executed at the Tower of London in 1536 and buried at the Tower.
Henry and Anne had three children. Elizabeth was born at Greenwich Palace in 1533, and eventually succeeded as Elizabeth I. A child was stillborn in 1534, and there was a miscarriage in 1535. A son was stillborn at Greenwich Palace in 1536.
Henry`s third wife was Jane Seymour, daughter of Sir John and Margaret Seymour. She was born at Wulfhall in 1508, and married Henry at Whitehall Palace in 1536. She died at Hampton Court in 1537 and was buried at St. Georges Chapel, Windsor.
Henry and Jane had one child.
Edward was born at Hampton Court in 1537, and succeeded his father as Edward VI.
Henry`s fourth wife was Anne of Cleves, daughter of John III, Duke of Cleves. She was born at Dusseldorf in 1515 , and married Henry at Greenwich Palace in 1540, being divorced later that year. She died at Chelsea Old Palace in 1557, and was buried at Westminster Abbey.
Henry and Anne had no children.
Henry`s fifth wife was Catherine Howard, daughter of Lord Edmund Howard. She was born at Lambeth in 1525, and married Henry at Oatlands Palace in 1540. She was executed at the Tower of London in 1542, and buried at the Tower.
Henry and Catherine had no children.
Henry`s sixth wife was Catherine Parr, daughter of Sir Thomas Parr. She was born at Kendal Castle in 1512, and married firstly Edward de Burgh, Baron Borough in 1526. He died in 1529. She married secondly John Neville, Baron Latimer, in 1530. He died in 1542. Her third marriage was to Henry at Hampton Court in 1543, and after his death in 1547 she married Thomas Seymour, Baron Sudeley, the brother of Jane Seymour, in 1547. With Thomas she had a daughter Mary, born in 1548. Catherine died at Sudeley Castle in 1548, and was buried there.
Henry and Catherine had no children.
Henry also fathered some illegitimate children.
By Elizabeth Blount, daughter of Sir John Blount of Kinlet: Henry Fitzroy, Duke of Richmond and Somerset. He was born in 1519 and died in 1536.
By Joan Dobson: Etheldreda. She died in 1555.
By Mary Berkeley: Sir John Perrot. He was born in 1527 and died in 1592.
By an unknown mother: Thomas Stukeley. He was born in 1525 and died in 1578.
Posted by colin on Thursday 7th January, 2010 at 9:27am