St. Georges Chapel (Windsor)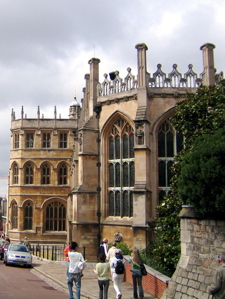 St. George's Chapel is one of the outstanding features of Windsor Castle, in Windsor on the River Thames.
The chapel was built as a spiritual home for the Order of the Garter. Building work began in 1475, during the reign of Edward IV, but not completed until the 1520s, in Henry VIII's reign.
St. George's Chapel is the burial place of ten Kings and four Queens. The Kings are Henry VI; Edward IV; Henry VIII; Charles I; George III; George IV; William IV; Edward VII; George V; and George VI. The Queens are Jane Seymour; Charlotte (wife of George III); Alexandra (wife of Edward VII); and Mary (wife of GeorgeV).
The disastrous fire in 1992, the Queen's "annus horribilis", left St. George's Chapel badly damaged.
But the restoration has been magnificent. including the largest hammerbeam roof constructed in the 20th century.
The restoration was completed on the Queen's 50th wedding anniversary. She said it was the best anniversary present she could have wished for.