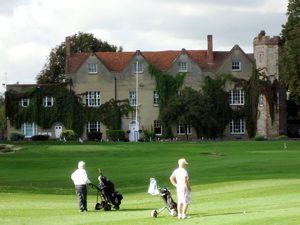 Henry IV was King of England in the early years of the 15th century, and the first of the House of Lancaster.
The son of the powerful John of Gaunt and his first wife Blanche, he was born at Bolingbroke Castle in Lincolnshire in 1367, and was thus known throughout his life as Henry Bolingbroke.
Henry held a good many titles, including Knight of the Garter (from 1377), Earl of Derby (1377), Earl of Northampton (1384), Earl of Hereford (1384), Duke of Hereford (1397), Duke of Lancaster (1399), Earl of Leicester (1399) and Earl of Lincoln (1399).
He married Mary de Bohun, the 12 year old daughter of Humphrey de Bohun, Earl of Hereford and a great landowner in Essex, at the chapel at Rochford Hall in 1381.
During the 1380s, Henry became one of the Lords Appellant, who effectively ruled the country instead of the unpopular Richard II, Henry`s cousin.
But he stepped down from this role in 1389, becoming a supporter of the King. He was famously courageous and a competent general. He joined the Teutonic Knights in 1390 on an expedition to Lithuania, and in 1392 undertook a pilgrimage to Jerusalem.
Henry`s wife Mary died in childbirth at Peterborough Castle in 1394, and she was buried at Trinity Hospital in Leicester.
Richard, continually unstable, banished Henry into exile in 1398 as a punishment for what he saw as past treason. When John of Gaunt died at Leicester Castle in 1399, Henry succeeded to his titles, but Richard extended his exile from ten years to life.
Henry invaded England at Ravenspur in Yorkshire and Richard submitted within six weeks. He was generally accepted as the right man to become King, although Edmund Mortimer, Earl of March, had a better claim. He was, however, only seven years old and few thought that his accession would be a good idea. Henry was therefore crowned as Henry IV at Westminster Abbey
Before long, however, there was a rebellion organised by the Earls of Kent, Salisbury and Huntingdon. This was swiftly put down and the last two Earls were beheaded in the Market Place at Cirencester by the townspeople. Richard, meanwhile, died at Pontefract Castle, probably starved to death.
Shortly after this, there was a rebellion in Wales, where Owain Glyndwr was declared Prince in 1400. This too was put down without too much difficulty, but Glyndwr escaped and was joined by disaffected English lords, including the Mortimers and Henry Percy, son of the Earl of Northumberland and a former close friend of the King. He was better known as Hotspur.
This came to a head at the Battle of Shrewsbury in 1403, at which Hotspur was killed and afterwards quartered.
Henry married again in 1403 at Winchester Cathedral. His new wife was Joan of Navarre, the daughter of Charles II of Navarre.
Another rebellion in 1405, this time involving Richard Scrope, Archbishop of York, was put down and the Archbishop was executed.
In 1406, the 12 year old heir to the throne of Scotland was captured by pirates and handed over to Henry. Although the boy succeeded as James I of Scotland within months, he was kept as a hostage at the English court for the next seventeen years.
From 1406, Henry`s health began to decline and there were concerns for his life. He certainly suffered from eczema, and it seems likely that he had contracted leprosy. To make matters worse, Joan of Navarre was widely suspected of witchcraft.
In 1411, it was suggested that Henry should abdicate in favour of his son, also Henry. He declined to so this, and rumours said that Prince Henry was going to take the throne by force. No such thing happened.
The king died in 1413, and was succeeded by his son as Henry V. It had been foretold told that he would die in Jerusalem, so he was confident that his life would not end in England. But while praying at Westminster Abbey he had a seizure and was carried to a nearby room known as the Jerusalem Chamber. When he made a partial recovery and was told where he was, he accepted his fate. His son entered the room and took the crown, only for the king to rouse himself and ask its whereabouts. On being told that the prince had taken it, he eventually gave up the ghost.
Henry had expressed a wish to be buried at Canterbury Cathedral rather than Westminster Abbey. When the ship bearing his coffin was sailing down the River Thames, a story claims that his body was washed overboard and lost, and that it is a substitute buried at the cathedral.
Henry had a number of children by his first wife, Mary de Bohun.
Edward was born in 1382, but died after 4 days. He was buried at Monmouth Castle.
Henry, born in 1387 at Monmouth, succeeded as Henry IV.
Thomas was born in 1388 at Kenilworth Castle, and was created Earl of Clarence. He married Margaret, daughter of Thomas Holland, Earl of Kent, in 1411. He died in battle in France in 1421, being buried at Canterbury Cathedral.
John was born in 1389 and was created Earl of Kendal and Duke of Bedford. He married Anne, daughter of John the Fearless, Duke of Burgundy, in 1423, at Troyes Cathedral, having one child. His second marriage, in 1433 at Therouanne in France, was to Jacquetta, daughter of Peter of Luxembourg, Count of St. Pol. They had sixteen children. He died in 1435 at Rouen and was buried at Rouen Cathedral.
Humphrey was born in 1390 and created Duke of Gloucester and Earl of Pembroke. He married Jacqueline, daughter of William IV, Duke of Bavaria, at Hadleigh (Essex) in 1423. His second marriage was to Eleanor, daughter of Sir Reginald Cobham of Sternborough in Kent, in 1428. He was murdered in 1447 at Bury St. Edmunds and buried at St. Albans Abbey.
Blanche was born in 1392 at Peterborough Castle. She married Louis Barbatus, Duke of Bavaria, at Cologne Cathedral, in 1402, and had two children. She died in 1409 at Neustadt in Alsace, where she was buried.
Philippa was born in 1394 at Peterborough Castle, her mother dying in childbirth. She married Eric of Pomerania, King of Sweden, at Lund in Sweden in 1406. She died in 1430 at Waldstena Convent in Sweden, where she was buried.
Joan of Navarre had previously been married to John de Montfort, Duke of Britanny, and had nine children by him. She and Henry had no children. She died in 1437 at the Dower House at Havering-atte-Bower, and was buried at Canterbury Cathedral.
Henry is also said to have had one illegitimate child, Edmund Labourde, who died in 1401, by an unknown mother.
Posted by colin on Friday 13th February, 2009 at 9:46am