River Thames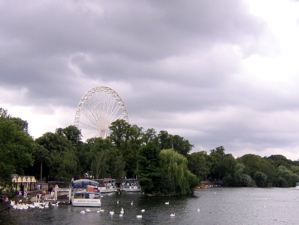 The River Thames is one of the most famous rivers in the world. It is the longest river entirely in England (the River Severn is partly in Wales), and flows for 210 miles from near Cirencester in the Cotswolds to where its estuary joins the North Sea between Essex and Kent.
The highest town to which the Thames is navigable is Lechlade, and a little further down is William Morris's home, Kelmscott Manor.
Oxford is home to one of the world's oldest and most famous Universities, with popular associations today with C.S.Lewis, Inspector Morse and Harry Potter.
Abingdon, Dorchester and Wallingford are all historic old towns.
Reading has become a large modern town, but has a long history. At Reading Abbey, Henry I was buried and a monk wrote "Summer is Icumen in".
Henley-on-Thames (with its regatta), Marlow (which sports a fine suspension bridge) and Maidenhead (where Brunel built a huge railway bridge) are all thriving genteel towns.
Windsor is famous for its Royal castle, still used by the Queen as a Royal residence, and is a handsome market town.
London is one of the major, and most historic, cities in the world. London owes its existence to the Thames, as it was founded by the Romans at the lowest possible crossing point.
The Thames Estuary is flanked by popular seaside resorts, such as Southend on the Essex coast and Margate in Kent.
Events in River Thames