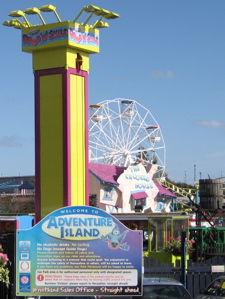 As a Blue Badge Guide, I visit a lot of places during the course of a year, and I thought it would be a nice idea to list the Top Twenty visits that I have made in 2008.
I have disqualified places in Leicestershire and Rutland, and the towns and cities surrounding those two counties, as this is the area where I live and normally operate anyway.
The listing is not scientific, but aims to show places where visits have been particularly interesting, enjoyable, useful or successful.
1. Colchester. The oldest town in Britain, and the town most visited on my Coach Trips. I led a trip here again, with my own Guided Walk, and as usual amazed people with its breathtaking sweep of history.
2. Salisbury. My wife Anne came with me on this Coach Trip, which I repeated from a previous year. It included my Guided Walk.
3. Southend. My home town, where my mother still lives. Anne and I stayed with her for a few days, and I did for another few days, during which time I led my "Rochford and Hawkwell" and "Old Southend" Guided Walks. I also led another Coach Trip to here, including my own Guided Walk, impressing many again with the town`s clean and refreshing air.
4. London. Several visits to the capital, including for trade shows. As usual, I led a number of Guided Walks in London - "John Wesleys London", "The Haunted Capital", "Southwark and Bankside" and "Sweeney Todds London". I also watched the Lord Mayor`s Show.
5. Canterbury. A party went to this historic cathedral city for a short visit on another repeated Coach Trip, the "Kent Tour".
6. St. Albans. Anne and I visited this old cathedral city with a party from some Leicester churches, for the St. Albans Festival Pilgrimage. This superb annual event features a procession from the Roman ruins at Verulamium, and services at St. Albans Abbey.
7. Lichfield. I spent the day here on a familiarisation visit organised by the council. As part of the day, we visited Lichfield Cathedral, Erasmus Darwin`s House and Dr. Johnsons Birthplace.
8. Bury St. Edmunds. This lovely old town was one of the short stops on the "Thetford Forest Tour", 2008`s edition of the popular Autumn Colours Tours.
9. Lavenham. I made another visit to this outstanding mediaeval town on a Woods Coaches trip.
10. Lincoln. I visited this hugely historic cathedral city on a Woods Coaches trip. I visited Lincoln Cathedral and its splendid refectory for coffee.
11. Southwold. One of my favourite seaside towns. I paid this delightful town a visit on a Woods Coaches trip.
12. Hampton Court. My first visit here for many years was in connection with a trade show organised by North East England, and of course I had a look around the palace afterwards.
13. Chepstow. Interesting little town just inside Wales. I visited here as part of a Wye Valley Tour run by Woods Coaches, and was able to have a look around Chepstow Castle.
14. Stratford-upon-Avon. I brought a party here for a couple of hours on my "Shakespeare Country Tour" Coach Trip.
15. Whitby. Always a joy to visit here, and I did so again on a Woods Coaches trip. I had a look around the splendidly terrifying Dracula Experience.
16. Chesterfield. Anne and I spent the weekend here, on a Group Travel Organisers` Association visit. While there, we climbed up to the top of the Crooked Spire, and visited Bolsover Castle and Hardwick Hall.
17. Leeds (Yorkshire). Anne and I spent a night here as part of an excellent familiarisation weekend organised by Leeds and Pennine Yorkshire. While in Leeds, we took in some of the shopping experiences and watched "Spyski!" at the West Yorkshire Playhouse.
18. Rochester. I brought a party here for a short visit as part of the "Kent Tour" Coach Trip, and sampled the coffee at the excellent refectory at Rochester Cathedral.
19. Weymouth. My first visit here for a long time was on a Woods Coaches trip.
20. Sheffield. Anne and I visited this city for our son Kevin`s graduation from Sheffield Hallam University.
Posted by colin on Monday 26th January, 2009 at 9:23am