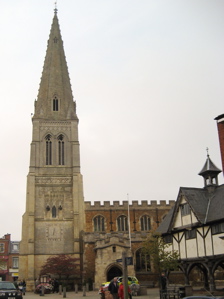 Recently, I led another of the morning Coach Trips. This time it was "Northamptonshire Delights Tour".
The format for these tours is that they leave St. Margarets Bus Station in Leicester at 9.30am, and return about 2pm. Participants stay on the coach almost all the time, while I give a commentary, but about halfway round we make a stop somewhere nice, where one can buy tea, coffee, cakes etc.
On this occasion, we moved down through the delightful market town of Market Harborough, and then on into Northamptonshire, making a brief stop at Rushton to see the amazing Triangular Lodge.
Moving on through Rothwell and passing Kettering and Thrapston, we arrived at the old stone town of Oundle while the market was in full swing.
This was where we made our stop, at the splendid Coffee Tavern, where John Raper and his staff looked after us.
Then it was on through Weldon to Geddington, where we stopped to admire the Eleanor Cross, one of only three of these that are still standing.
After that we went past Boughton Park, Wicksteed Park and Rockingham Castle, returning to Leicester by way of Uppingham.
Everybody had a marvellous morning.
Some of the comments in my Visitors Book are "very enjoyable", "enjoyed the countryside and our stop at Oundle" and "excellent tour, very interesting places visited, good guide".
The next trips are "Ludlow", "Salisbury" and "Vale of Belvoir Tour", which is another morning tour.
Posted by colin on Thursday 28th August, 2008 at 8:43am