Uppingham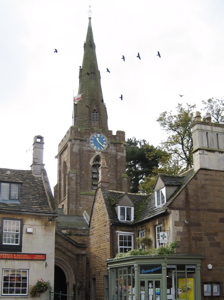 Uppingham is the smaller of only two towns in the tiny county of Rutland.
Its elegant stone buildings hark back to an almost-vanished England.
Uppingham became a market town during the Middle Ages, taking over from the much smaller Lyddington a few miles away.
The town has a prominent position on a ridge, where the Leicester to Peterborough road crosses the road from Oakham to Corby.
The mediaeval church, unusually placed so that it can be entered from the Market Place, has four stone demi-figures, representating saints, dating from the Norman period, on the walls.
One of the incumbents in the 17th century was Rev Jeremy Taylor, chaplain to Charles II. The church contains an impressive carved pulpit dating from about this time.
Uppingham has, for its size, a large number of art galleries and antiquarian bookshops.
The best-known institution in the town is Uppingham School. This was founded in 1584 by Archdeacon Robert Johnson, who also founded Oakham School in the same year. As at Oakham, the original building still stands in the churchyard.
The school became an important public school in the 19th century under the great educationalist Edward Thring. Among the old boys are Malcolm and Donald Campbell, of "Bluebird" speed record fame, John and David Suchet, newsreader and actor, Stephen Fry, actor and scriptwriter, Johnny Vaughan, TV presenter, and James Whitaker and Jonathan Agnew, Test cricketers (Agnew is now the BBC's cricket correspondent).
Blue Badge Guide Colin Crosby is available to lead Guided Walks around Uppingham for groups.