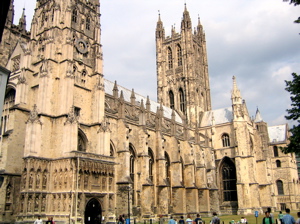 I recently led another Coach Trip, this time called the Kent Tour.
These full day tours consist of three stops of about an hour each, in three nice towns, and of course this one was to the historic county of Kent, widely known as the Garden of England.
After leaving St. Margarets Bus Station in Leicester, we moved down the M1 and then the M25, stopping for coffee at the excellent Forty Hall in Enfield.
From there, we cut across a corner of beautiful Essex before crossing the highly impressive bridge high up over the River Thames, with London to our right and Southend and the North Sea to our left.
The first stop in Kent was at the historic cathedral city of Rochester. Many of those on the trip visited Rochester Cathedral and some had a look at Rochester Castle, while all had a stroll along the bustling High Street.
Then it was on to Sandwich, one of the original Cinque Ports and a very pretty town indeed, with a vast number of timber framed listed buildings.
From there we travelled past the impressive Roman walls and ramparts at Richborough and the Viking Ship at Cliffsend, and looked down on the extensive Pegwell Bay, where the English Channel meets the North Sea, and were able to admire its white cliffs.
Cutting through the Isle of Thanet, we soon arrived at the last of our three stops, the exceptionally historic cathedral city of Canterbury, with its mediaeval City Walls and spectacular Canterbury Cathedral.
On the way back, we travelled through the tunnel under the Thames, and had a coffee stop at Thurrock Services.
My Visitors' Book has such comments as "a brilliant trip, never been to Kent before, makes me want to go again", "Colin is a mine of information, don`t know how he remembers all he does", "good choice for the morning coffee stop and three very interesting places" and "another brilliant day out".
Forthcoming trips include "Southend", "Rutland Tour", "Shakespeare Country Tour" and "John Clares England Tour".
Posted by colin on Thursday 1st May, 2008 at 8:44pm