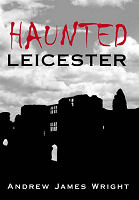 Andrew James Wright, the accepted authority on hauntings in the Leicestershire area, has published an updated version of his "Haunted Leicester" book.
Andrew brought out a book called "Haunted Leicester", a collection of accounts of supernatural happenings, in 1995.
Funnily enough, he was putting the book together at the same time that I was researching for my first ghostly walk, which I also called Haunted Leicester. Neither of us knew what the other was doing.
But he came on my first haunted walk, and I bought his book, so honour was satisfied on both counts.
When Andrew published a second book, this time entitled "The Lively Ghosts of Leicestershire", he was kind enough to include me in the acknowledgements, as "Colin Crosby (an excellent Guide)".
He has now updated and tidied up the contents, and the new "Haunted Leicester" is now available.
As the back cover points out "The streets and buildings of Leicester are home to all manner of ghosts, ghouls and things that go bump in the night. Haunted Leicester explores the supernatural side of the city and its surrounding area, seeking out spectres and phantoms and recounting their tales."
Some of the sites discussed are Leicester Cathedral, the Guildhall, Braunstone Hall, Leicester Castle and St. Mary de Castro Church. The Belgrave area is discussed in some detail, in particular St. Peters Church, Belgrave and the famously haunted Belgrave Hall.
The new "Haunted Leicester" book is available at all good bookshops in the Leicester area.
And of course, if you want to go on a ghostly walk yourself, I lead plenty of these.
Posted by colin on Wednesday 5th April, 2006 at 6:43am