Belgrave Hall (Leicester)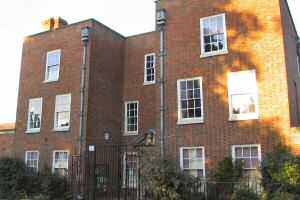 Belgrave Hall is situated in the quiet cul-de-sac called Church Road in the former village of Belgrave. Church Road is off Thurcaston Road, which in turn is off Loughborough Road, one of the major routes leading Northwards out of Leicester.
It is an 18th century mansion, originally built for the Craddock family. One of its most famous residents was John Ellis, a19th century businessman who persuaded George Stephenson to survey the local countryside to see if a railway were feasible. George's son, Robert Stephenson, subsequently built what was one of the world's first railways, the Leicester to Swannington. John Ellis was later the Chairman of the Midland Railway.
Belgrave Hall was long operated by Leicester City Council as a Museum, and has delightful gardens.
A few years ago the hall acquired a worldwide reputation as a haunted house, when closed circuit television recorded what appears to be the ghost of an old lady.
At the end of Church Road is the 13th century St. Peters Church, Belgrave, and nearby are another 18th century house, Belgrave House, the Talbot Inn and the Georgian Cross Corners, now used as an arts centre.
Belgrave Hall is no longer permanently open to the public, and has had much of its furniture removed.